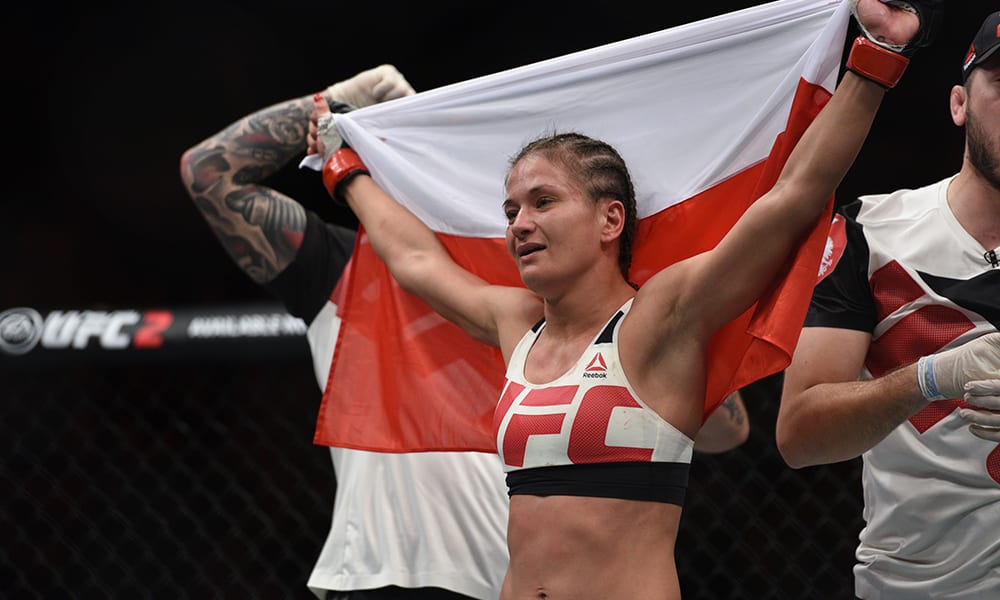 While Joanna Jedrzejczyk may rule the UFC women's strawweight division with an iron fist, the crowd of sharks beneath her are becoming increasingly more dangerous.
Case in point, Karolina Kowalkiewicz, the fellow Polish fighter who gave Joanna some trouble when they fought at UFC 205. While Jedrzejczyk won that fight, she didn't do so with ease, and at one point it appeared Kowalkiewicz had her badly hurt.
Since then, Jedrzejczyk has refuted claims of a rematch, stating that she won the fight decisively and as such would no longer need to consider Kowalkiewicz a challenger. For Kowalkiewicz herself, she believes that their first fight showed she was more ready for the contest than people had given her credit for.
"I don't really like to score my own fights because I'm very critical with myself," Kowalkiewicz said, speaking with FloCombat. "I will say though, I'm pleased I proved wrong the critics who were saying it wouldn't last longer than two rounds. We went the distance and you can look at pictures of us afterward how damaged Joanna's face was and how mine wasn't.
"Maybe she threw more volume, but my counter attacks were stronger and you can see that on her face. Nobody has put that kind of damage on her before, she couldn't even make it to the press conference because she got taken to hospital. On the other hand, I'm mad at myself because I was so close to winning this fight and I know I can push even harder."
The talk between the two Poles flared up again recently, with Jedrzejczyk posting a picture of the latest in her line of water bottle slogans directed at her old rival.
Somebody may be a little obsessed and paranoid @joannamma 😂😂😂😂😂😂😂😂😂😂 pic.twitter.com/MocZVoyrQR

— KarolinaKowalkiewicz (@KarolinaMMA) February 7, 2017
But despite being in a world of mixed martial arts where personal feuds can get you rematches, Kowalkiewicz knows she has some work yet to do before she can face off against the 115-pound champion once again.
"I'm a realist and I know I need to have one more fight before the rematch," Kowalkiewicz said. "But, I will do everything I can to get this fight before end of the year and I believe I will do it. I know how to fight Joanna now and I know I will beat her the next time we get inside the Octagon.
"Joanna likes to talk a lot. Before she was talking over and over saying that I'm not on her level and that our first fight was never going to happen. Now she is saying that I don't deserve rematch, well ok, we'll see about that."
To get herself closer, Kowalkiewicz knows activity is the name of the game.
"I don't have any confirmed information or contract yet, but I would like to fight at the beginning of May," Kowalkiewicz said. "I can't wait to return to the Octagon because I think people are going to see I've not just been taking time off, I've already made big improvements and the next time you see me I'll be even better than what you from me at UFC 205.
"I don't pick my opponents, but a fighter I want to test myself against next is Claudia Gadelha. I think she's one of the best female fighters in the world and I think it makes sense with us both at the top of the rankings."
Comments
comments