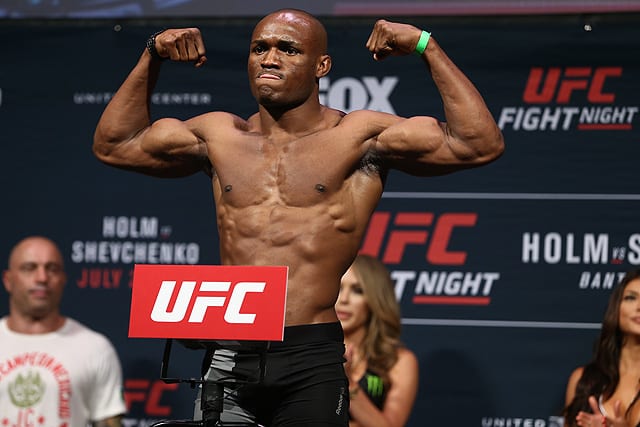 'The Nigerian Nightmare' Kamaru Usman will fight for the UFC welterweight title at UFC 235 on March 2 regardless of whether or not Tyron Woodley is standing opposite him in the cage, according to UFC president Dana White.
"That fight is happening or Usman vs. someone for the title," White said in a statement to MMAJunkie.
Usman's manager, Ali Abdelaziz, had previously stated that his fighter would fight for the 170-pound title but this is the first confirmation from UFC brass that it appears to be happening.
Of course, this news will come as a bit of a surprise to former interim champ Colby Covington who has been verbally sparring with Tyron Woodley for much of the past year. He was offered a bout against Woodley earlier this year but elected to pass on the opportunity due to minor surgery, though if Woodley is unable to compete by March 2 it is likely he will be the man facing Usman.
Shut your bi&ch a$$ Up coward. You ran from me 5 different times and counting… #UFC228 was your shot and your bi&ch a$$ ran from that. Now go sit the F&ck down and watch grown men work 😩😢@danawhite @AliAbdelaziz00 @seanshelby https://t.co/DZTfYKYOLH

— KAMARU USMAN (@USMAN84kg) December 27, 2018
"Brother, I don't need to wait on Woodley," Abdelaziz said. "He's the UFC champion. First of all, he was ready to fight Colby Covington, just to be fair to Woodley, because I think we're not fair to Woodley sometimes. I believe he's one of the greatest welterweights of all time, my opinion. But I think right now he was ready to fight Colby Covington, and he was the interim belt. Colby Covington said, 'No, my nose hurts.'
"Usman just had a crazy performance over (Rafael dos Anjos), five-round domination. How do you not give it to him? And he was willing to fight Colby Covington in January and February, but Covington said no. That's why I went to Dana and said, 'He said no. We're ready to fight now, injured.' Shout out to the UFC. I think sometimes we smash the UFC, but I've got to give them a shoutout for giving the guys the titles they deserve, and Usman (expletive) deserves it.{
Comments
comments