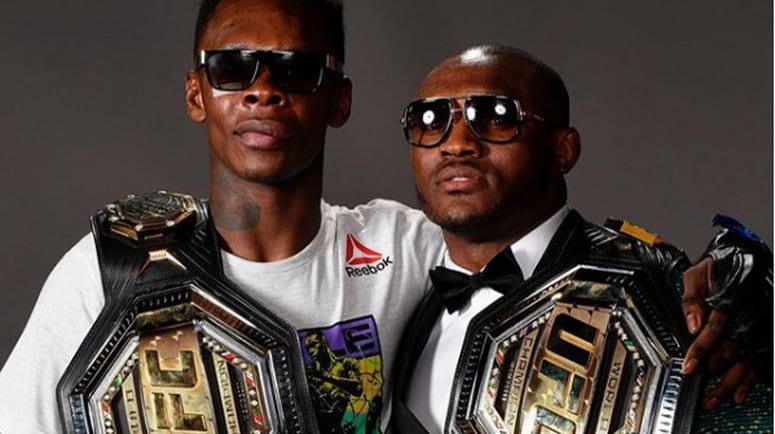 Reigning UFC welterweight champion Kamaru Usman has already signposted himself as one of the most successful welterweight fighters in company history, but what of a move up a weight class to pursue more gold?
In theory, Usman says he is open to the idea — but only if current titleholder (and fellow fighter of Nigerian extraction) Israel Adesanya relinquishes his world championship. Adesanya is due to challenge Jan Blachowicz for the UFC's light heavyweight belt next month and if 'The Last Stylebender' stays at 205-pounds after that, Usman says he may contemplate a switch. Until that happens though, no chance.
"If Izzy is willing to move up," Usman told ESPN. "Well, he is moving up. But, if he's willing to give up that 185 belt and say 'I don't want to have anything to do with that division anymore' then absolutely. I would absolutely entertain that thought."
View this post on Instagram
But Usman says that under no circumstances would he ever fight Adesanya, a competitor with whom he has grown close due to their common heritage bond.
"But, on no account right now would I ever entertain going up to fight with Izzy. That's just not something that I am interested in. I've stated it over and over and over before. I'd rather there be two African's with belts as opposed to just one African with two belts. And you know, after March (Ngannou vs. Miocic rematch) there's going to be three Africans with a total of four belts."
Usman's next move might well be complicated by news of a foot injury he sustained in his UFC 258 title defence against Gilbert Burns late last Saturday, after the Nevada State Athletic Commission announced earlier this week that he is facing a six-month medical suspension unless he has his ailment cleared in the meantime by a sports doctor.

Comments
comments