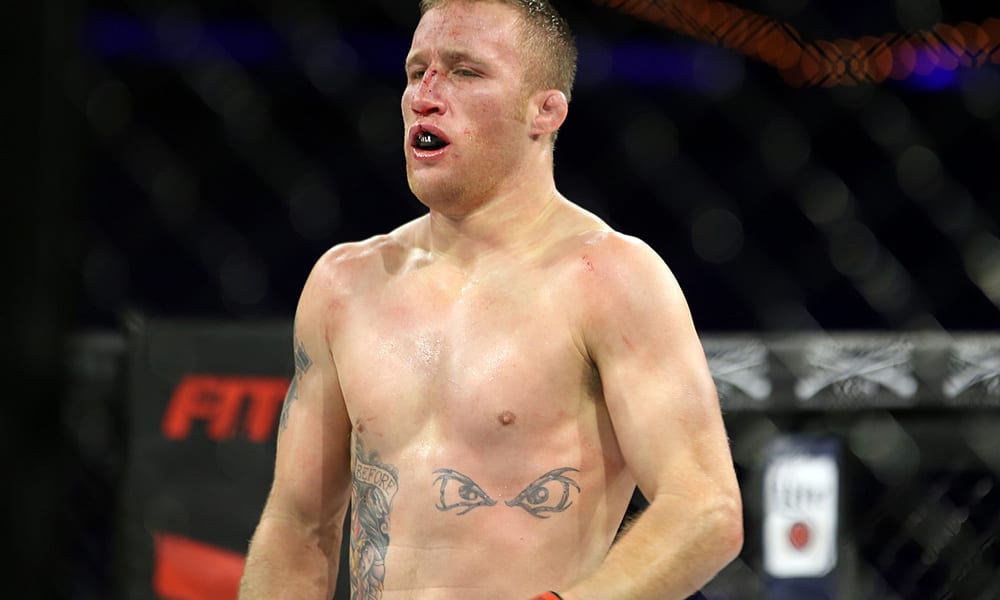 Justin Gaethje might have been knocked out in his fight against Eddie Alvarez at UFC 218, but you wouldn't know it from talking to him.
The two men went through an absolute war in Detroit earlier this month, with Alvarez having his leg pummeled by Gaethje only to overcome the damage and land the stunning fight ending knee. The two earned plenty of plaudits, particularly granting how much expectation was put on the contest to be an entertaining affair.
But even after going through such a battle, Gaethje simply can't feel bad for losing. He just had far too much of a good time.
"I really had a lot of fun in there," Gaethje said, speaking on MMAFighting's The MMA Hour. "That's first and foremost. I had the time of my life honestly. Being in front of that many people, being able to put my skills on the line at the highest level, on a pay-per-view. All those things, it was like a dream come true for me.
"I have to keep reminding myself that I lost. I don't know. I signed up for this, I said it before, many times, that I was going to lose. If I lost, I hoped that I would get knocked out, and ultimately it came true."
Having left the cage with the first loss on his record, Gaethje knows he's now in a different position than he went in under. Prior to the Alvarez fight, there were suggestions that a good win for Gaethje could start to push him towards title contention. Now, the self-aware Gaethje realises that he'll have to tone back expectations in the immediate future.
"If I would have won, the future would have been a lot different," Gaethje noted. "My next fight opportunities would have been different, but you know, when you win you get to pick someone in front of you to fight and when you lose — I'm still ranked number five in the world and the UFC, so coming off a loss now I get to give someone behind me a chance.
"We'll see which one of these loudmouths — Kevin Lee, Dustin Poirier — one of them's going to have to get me on my comeback so, I'm excited for that."
"I wanna fight Kevin Lee. Dustin's back there. Before I said I wouldn't fight them if I won, obviously,  but in a way you sound like a coward if you say you'll fight them if you lose, but I'm still ranked number five and I'm still ranked ahead of them. So they need that fight, they need that fight to move up, so whoever the UFC wants to give me I'm going to get paid the same my next fight to fight whoever it is."
Gaethje finishes 2017, his first year in the UFC, with two fight of the year contenders. While he never really had a personal issue with Johnson, one gets the sense that the former World Series of Fighting champion has a real appreciation for Alvarez now they've fought.
"I couldn't break him," Gaethje said. "I've broke 18 people in a row, and on my 19th fight I found someone I could not break. I enjoyed it, and I appreciated it. … I love what I do. I love it."
Comments
comments