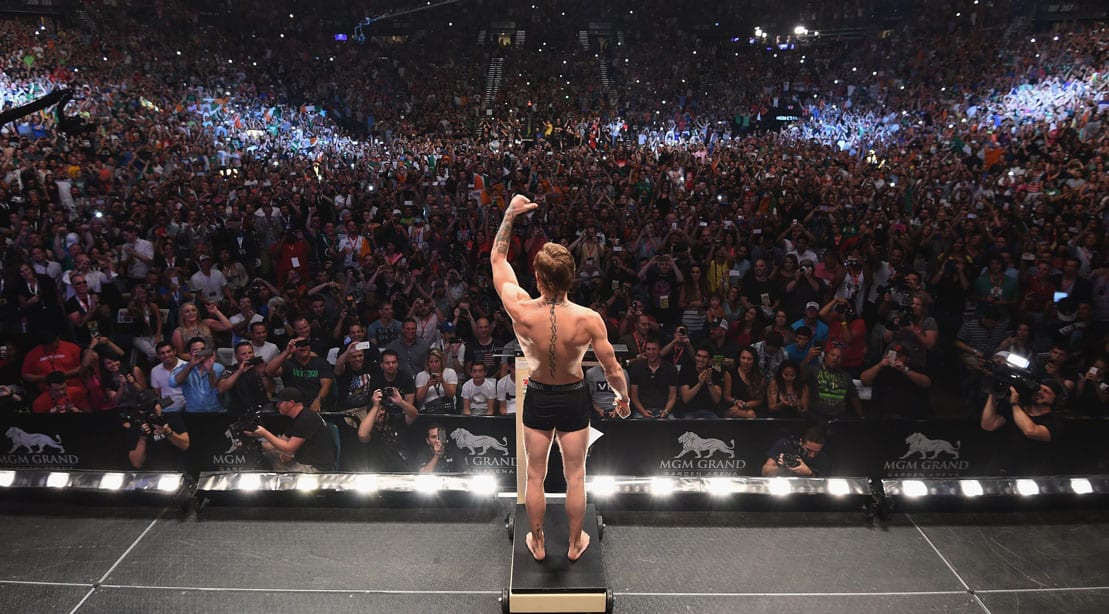 Well, it's finally time to put those rumours about a supposed 'retirement' to bed.
A little over a year since he last the felt the texture of a UFC octagon canvas beneath his feet, Conor McGregor has spoken about his eagerness to get back into active competition and his disappointment at how slow-moving the arrangement of his next fight, whoever it may be against, has been.
Speaking in the Ukrainian capital of Kiev on Tuesday, McGregor outlined how he says he has pushed the UFC to book him against several fighters recently, even offering to compete for free, but the impasse has led to him casting a glance towards doing an exhibition fight in Dublin in December should no bout agreements wind up in his inbox in the coming weeks.
"Funny enough, I just want to compete now," McGregor said during the Q&A hosting by sports betting outfit Parimatch via MMAFighting. "I was trying to get the Dec. 14th card, for whatever reason they've been holding me back. I'm giving them dates, I'm saying I want to fight this date, this date, this date, this date in a row, and we had opponents selected and everything and they're just making it very difficult for me for whatever reason."
Several months ago McGregor strapped on boxing gloves once again to take part in a charity event hosted by Crumlin Boxing Club, the fight club in the Dublin suburb in which McGregor first tested his mettle as a teenager. The event was a success and McGregor says he is open to doing something similar, though this time under a mixed martial arts ruleset.
"So now I'm kind of in a position where I'm attempting to set up a charity event. I've done this before in my hometown but I done it in an amateur boxing event at my old boxing club, Crumlin Boxing Club, but I want to do it in mixed martial arts competition also. Create an event, find an opponent, compete, zero prize. I do not care about the prize. The prize is in my home. I have five prizes in my home that I seek to get, I've got them. I just want to compete now, I want to come back, I want to get sharp, I want to show the best of myself and continue to climb.
"So that's what I am seeking to do. So we are looking to do that sometime in December, hopefully have a charity mixed martial arts event for zero prize. The prize will go to charity, so that's what we are aiming for."
Recent comments from McGregor and UFC veteran fighter Frankie Edgar appeared to suggest that a fight between the two was close before UFC boss Dana White nixed the idea, saying it "doesn't make sense". McGregor elaborated further, saying that the UFC weren't keen on the potential fight because they felt it wouldn't raise significant capital.
This reasoning doesn't sit well with the Dubliner.
"I even offered for the Frankie Edgar bout to donate my purse to charity," McGregor said. "Because they were saying we won't make enough money on the Frankie fight and I was like, I don't care, don't worry about me, give my purse to charity. But for whatever reason it's being made difficult. Like I said, we're almost there. It's never easy with this crowd."
View this post on Instagram
Once that return does happen, McGregor says that you can expect to see a lot more of him. His early UFC run (and indeed the entirety of his pre-UFC career) was marked by accepting fights whenever they were offered. As his star (and paycheck) grew, however, the UFC began to use him more sparingly — something which is at odds with McGregor's claim that momentum and and consistency being key in MMA.
"For me, I am looking at—I used to fight every couple of weeks before the UFC came, then it was every couple of months," McGregor said. "Now the politics of [prize-fighting] got involved and it's almost if I won and then I go off. I do not like that, you can't be like that in this game. I must continue, consistency is another word, you must be consistent.
"Once we get the first one going and we get past the politics of this, I will continue to go," McGregor outlined. "I've faced very little damage inside the octagon so I'm eager to get going and continue. If I look at the run I had up to Eddie Alvarez when I won the second world title, it was consecutive bouts. Bout, bout, bout, so I went into that Eddie Alvarez fight sharp, aware, fully prepared. And what happened that night, one of the greatest performances in any title fight ever in the UFC. So that's what we are looking to continue on in the next time. Again, analyse what went wrong in the past, analyse what went right in the past, use it to go forward to the future."
Comments
comments