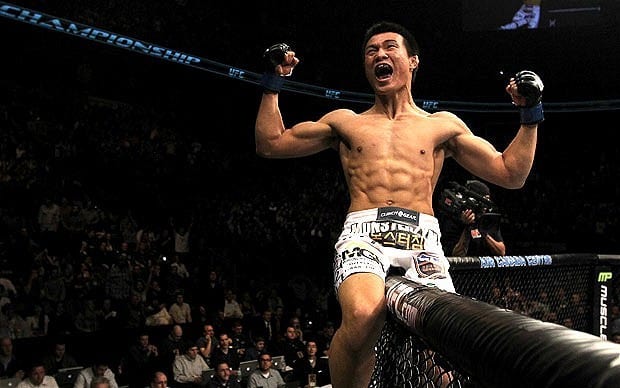 Musician Jay Park has given his side of the story after the incident at UFC 248 which led to UFC featherweight contender Brian Ortega being ejected from the arena for allegedly slapping Park, who also acts as translator for 'The Korean Zombie' Chan Sung Jung.
Ortega is understood to have harboured resentment towards Park for a translation he gave during a Korean Zombie interview with Ariel Helwani, in which Park translated Jung's statement that he felt Ortega was 'ducking' him. Well, in what appears to be a classic case of attacking the messenger, Ortega apparently did just that last Saturday night.
As Park explained:
"To be honest, I don't feel like I did anything wrong," Park said to Helwani via MMA Fighting. "I just translated. I've never put words in 'Zombie's' mouth. I've never put up a caption for him. I've never told him to trash talk. I have a lot of respect for fighters. They put everything on the line, they train hard, the fight, and they put their bodies on the line, and fight for their families and stuff like that. So I was actually a fan of Brian Ortega.
"I don't know what he was tripping about," he continued. "He was just mad for no reason. I didn't pay no mind. He was there, I was cool. I was just chilling. I was jet-lagged, spacing out, and then when Zombie went to the bathroom all of a sudden I see someone pull up and he's like, 'Hey dog, are you Jay Park?' And it kind of caught me by surprise, and I was like, 'Yeah,' and as I stood up, he like, smacked me. As I was standing up he smacked me. It was very narrow. It was very narrow. There was chairs behind me so I kind of fell back, then I got up, and I pushed him. Whatever, there was a little scuffle or whatever, and the people broke it up.
"It was just weird. It was just a weird, awkward – I really don't know why he's mad at me? He's supposed to be fighting Zombie. I dunno, it was just weird. It was a weird situation."
Park also rejected claims that he was deliberately increasing the level's of Jung's 'trash talk' in an effort to make him more popular with the UFC audience.
"We're not puppet masters. We don't ever want to put words in somebody's mouth. We want him to be him. We want him to be authentic. We want him to be real. We don't want him to be some kind of character. He doesn't need to do that. Of course, he's being more vocal now and he sees the reaction.
"[Ortega] has this false narrative in his mind that I'm the one on Zombie's IG or I'm the one being the puppet master behind Zombie, but it's not. It's just weird. It's very, very weird, very corny that he came out of nowhere and attacked me. It doesn't make any sense at all."
Comments
comments