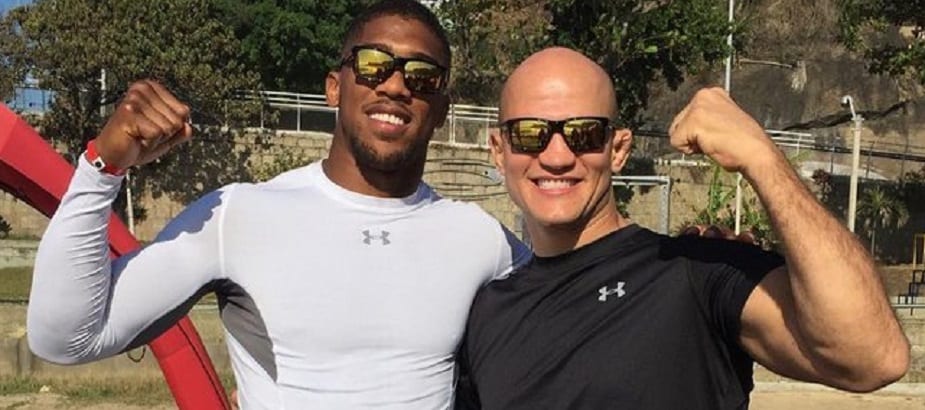 In the range of things happening, this ranks somewhere between 'pigs flying' and 'hell freezing over' but Junior Dos Santos wants to determine who the real heavyweight champion of the world by facing Anthony Joshua in a boxing match once he, as he predicts, overcomes Stipe Miocic in the main event of UFC 211 in Dallas next weekend.
Joshua is barely a week removed from his classic heavyweight encounter against Wladimir Klitschko in front of 90,000 fans in London but could now see himself as one of the next cast of characters in the boxing vs. MMA narrative which has dominated both sports headlines for the past twelve months.
'Cigano' is considered one of the premiere boxers in the UFC's heavyweight division but a bout with Joshua would be considered a massive step-up in competition for the Brazilian. However, Dos Santos remains undeterred.
"I would love to have a boxing match", Dos Santos said to Bloody Elbow. "Since I'm going to be the UFC heavyweight champion and there can be only one toughest man on the planet, I would like to fight Anthony Joshua. Champion against champion. It would be sensational."
Interestingly, both Joshua and Dos Santos engaged in some impromptu sparring at last year's Olympic Games in Brazil.
During Rio 2016 Olympics, @junior_cigano and @anthonyfjoshua training a little bit together in our show @canalCombate pic.twitter.com/6XHuBH5xjW

— Ana Hissa (@AnaHissa) May 5, 2017
For this to even stand the slimmest chance of coming true, Dos Santos must first dethrone current UFC heavyweight titleholder Stipe Miocic and in doing so replicate the result of when the pair first met in the octagon in December 2014.
"In the end, all that matters is who won", Cigano said of their first bout. "I was so happy with that win. I want the same result. I believe I will knock him out in the second round. I'm very confident. I'm a father now and I'm going through a great time in my life. It's going to be incredible for the fans.
"I feel stronger, healthier and I feel like it's my time. I've been working and I feel prepared. I respect Miocic and I will be in my best shape for this fight."
Comments
comments