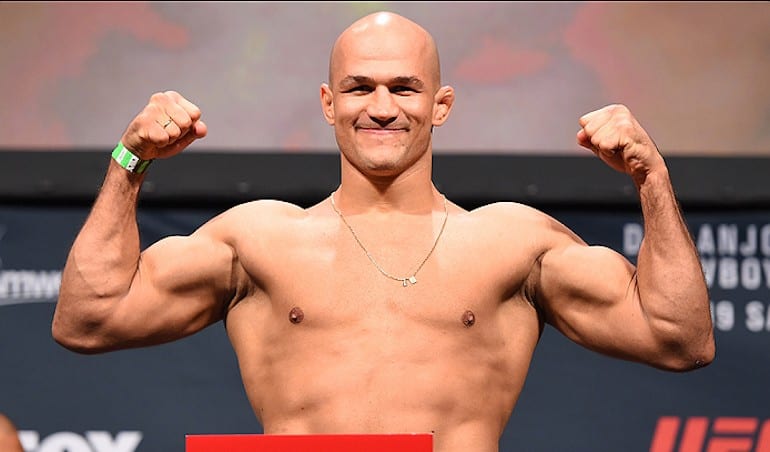 After Junior Dos Santos defeated Derrick Lewis in the main event of UFC on ESPN+ 4, he had to take note that his headliner opponent didn't exactly fight in a way Dos Santos appreciated.
Prior to the finish in round 2, the fight was called to a brief halt by referee Herb Dean after Lewis appeared to suffer a finger to the eye from Dos Santos — something the Brazilian denies truly occurring. In fact, according to Dos Santos, when Lewis winced in pain and the referee intervened, it just showed Dos Santos that his tape studying had been well placed.
"Derrick Lewis, I could see it in his fights, too, he complains a lot," Dos Santos said post-fight (H/T MMA Junkie). "Every time he got hit or something he complains a lot. I don't know if he's trying to take advantage of the moment or something, but he complains a lot. He was telling the ref, 'My eye.' It doesn't make sense. He was fine.
"You can see on the camera he was fine. That doesn't make any sense. But that's fine. The ref, Herb Dean, he's the greatest in this business and I trust him and that's what I told him – that my hands weren't open."
With the win, Dos Santos moves to three victories in a row, putting him back amongst the divisions elite. But with names like Brock Lesnar, Stipe Miocic and Francis Ngannou all having claims to be heavyweight champion Daniel Cormier's number one contender, Dos Santos is willing to let the chips fall where they may.
"I don't really care about who I am going to fighting," Dos Santos said. "Of course I want to add something to my career. You can see this ranking thing. It's crazy. Let's see what's going to happen. But there's many options for sure."
Comments
comments