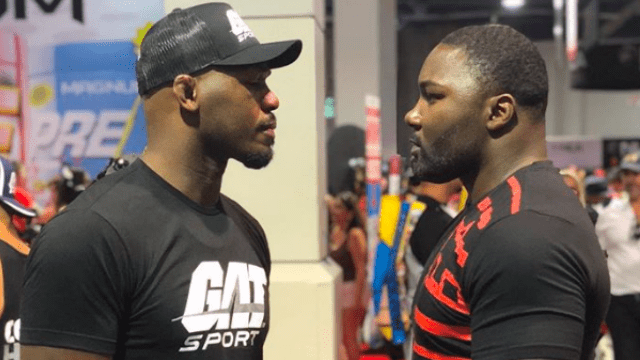 Jon Jones has turned his eye from one big fight to another.
Over the past couple of weeks, Jones has been taunting middleweight champion Israel Adesanya via social media in what appears to be an attempt in picking a fight. But, with Adesanya almost certain to meet contender Paulo Costa next time out, Jones has apparently started considering an old foe instead.
With Anthony 'Rumble' Johnson's recent announcement that he's preparing to return to the Octagon, and that he'd cut back to 205 pounds for a chance to face Jones in the Octagon, Jones has responded with a resounding yes.
Taking to his social media, Jones responded to Johnson's apparent comeback goals with a simple 'come and get it' message.
"We've always been cool but I'll be more than happy to choke you out if that's what you're looking for," Jones wrote. "You better make sure you have that cardio together big fella."
Jones and Johnson were meant to fight in 2015, but Jones famous hit-and-run collision caused the contest to be scrapped.
You better make sure you have that cardio together big fella @Anthony_Rumble

— Jon Bones Jones (@JonnyBones) October 15, 2019
We've always been cool but I'll be more than happy to choke you out if that's what you're looking for. @Anthony_Rumble

— Jon Bones Jones (@JonnyBones) October 15, 2019
–
Comments
comments