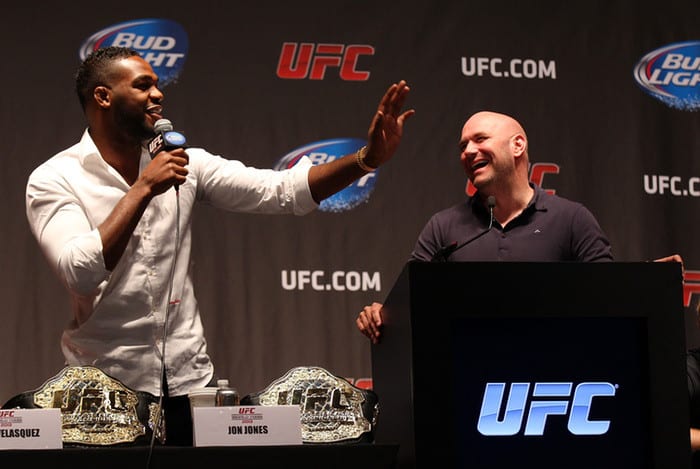 It seems likely the rivalry between Jon Jones and Daniel Cormier will never truly come to an end.
For the better part of the last five years, Cormier and Jones have consistently been at odds, with the pair publicly slamming the other throughout their storied dynamic. Even now, with Jones on the sidelines awaiting the result of a USADA verdict after failing a drugs test, it seems the former champion dislikes seeing Cormier holding the belt he never lost in the cage.
And, with Cormier moving up to heavyweight next month to face heavyweight champion Stipe Miocic — something Jones himself had long considered — it feels as if Jones is starting to tire of those praising Cormier's chase for history. In particular, Jones voiced his skepticism on his social media as to whether  or not Cormier should be considered one of the greatest of all time in the sports history should he defeat Miocic.
what have you done for me lately? Let's just be real and stop asking this question https://t.co/Tw3FcpH3bK

— Jon Bones Jones (@JonnyBones) June 20, 2018
If he's in the conversation does that make me the motherfucking man? https://t.co/cEnNRayEus

— Jon Bones Jones (@JonnyBones) June 20, 2018
Man I can't wait to get my job back and slap somebody https://t.co/qhS7kLZW7S

— Jon Bones Jones (@JonnyBones) June 20, 2018
For now, however, Jones is still waiting for his next move. Despite showing signs he's training during his suspension, posting clips of his boxing to Instagram, the man considered one of the best ever is stuck on the outside looking in, while his bitter rival attempts to scale new heights.
Comments
comments