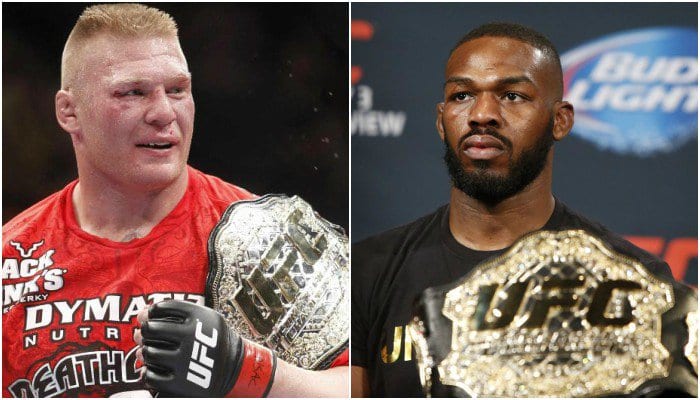 A bout between them still has several hurdles to clear before it can become reality but that hasn't stopped the sportsbooks from setting their stalls out early as to who might a win should Jon Jones and Brock Lesnar ever step into a UFC cage together.
Following his third round TKO win against Daniel Cormier at UFC 214 Jones issued a challenge to the former UFC heavyweight champion, now once again ensconced in the world of professional wrestling telling him, "Brock Lesnar, if you want to know what it feels like to get your ass kicked by a guy who weighs 40 pounds less than you, meet me in the Octagon."
Lesnar swiftly retaliated, telling Jones via the AP to "be careful what you wish for, young man."
With a gauntlet very much laid between the two fighters, the gambling world has begun to ask the question as to who would win if the bout ever materialises — and the consensus is largely behind Jones.
Per the sportsbook Bovada, as reported by Sherdog, they have it as a -160 likelihood that Jones and Lesnar will face each other before July 15th 2018 against a +120 for the opposite.
And if their prediction is correct? Jon Jones is listed as a +350 favourite to win, while Lesnar is priced at +265.
In order for Lesnar to be cleared for active competition he would have to declare himself 'un-retired' and enter the USADA testing pool for a period of six months before he could resume his fight career. USADA maintain a public database of all athletes it tests so if Lesnar does indeed make moves to enter the testing pool, it will be public knowledge soon after.
Comments
comments