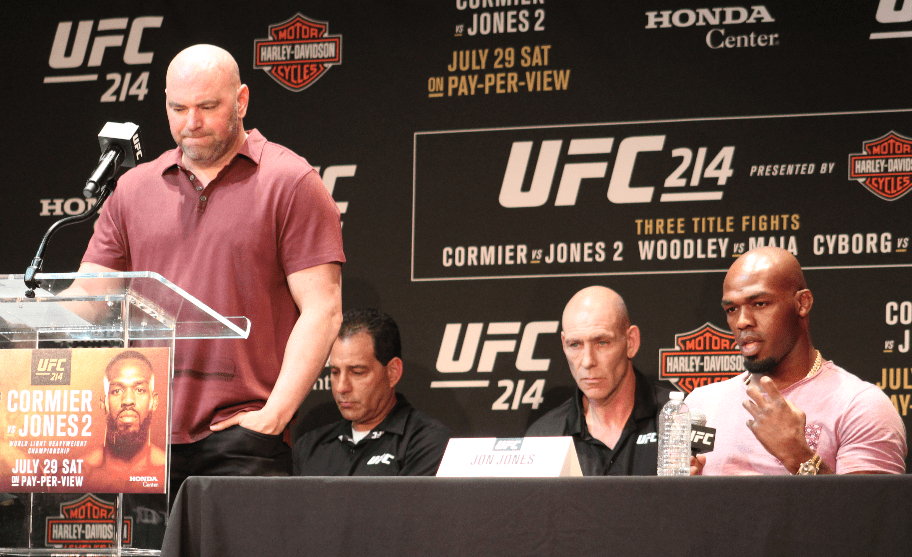 Today at the UFC 214 Pre-Fight Press Conference, Jon Jones and Dana White met and spoke for the first time in a year.
The two have famously been out of contact ever since Jones tested positive for a banned substance a couple of days before UFC 200, and forced the main event to be cancelled with nearly no time to find a replacement.
While White this week has seemed open to talking with Jones again should he see him, the former light heavyweight champion sees things differently. In fact, speak to Jones, and it appears the reason he and the UFC president haven't spoken is because he wants it that way.
"Dana White has reached out to me on at least four occasions, and I haven't answered any of his calls or any of his text messages. That's the reason we haven't spoken," Jones said, speaking with the LATimes.
Some of Jones' newfound displeasure towards his boss likely stems from public comments made by White immediately following the UFC 200 debacle. White famously stated that he would never trust Jones in the main event spot of a UFC pay-per-view (although he has gone back on that comment with Saturday night's top billing).
According to Jones, White's attitude towards his stars all stems from how much they do for White himself.
"I just feel like when you're making the company money and you're a pay-per-view draw and you're ultimately putting money in his pocket, then you mean a lot to him," Jones said. "The moment you aren't those things, you mean nothing to him, and he's done a decent job of showing that. I felt completely abandoned by him … in a situation when I needed him the most.
"I feel like he's shown me his true colors, and now I have no desire to pretend like he cares about me or that we're friends."
Instead, Jones would much rather deal with the new owner of the UFC, WME/IMG boss Ari Emanuel, who purchased the UFC for $4 billion last year.
"Unless he has something real pressing to talk to me about, I'd rather just talk to Ari Emanuel," Jones said. "As of now, I look at Ari as my boss and as Dana as more the face and the voice of UFC."
Comments
comments