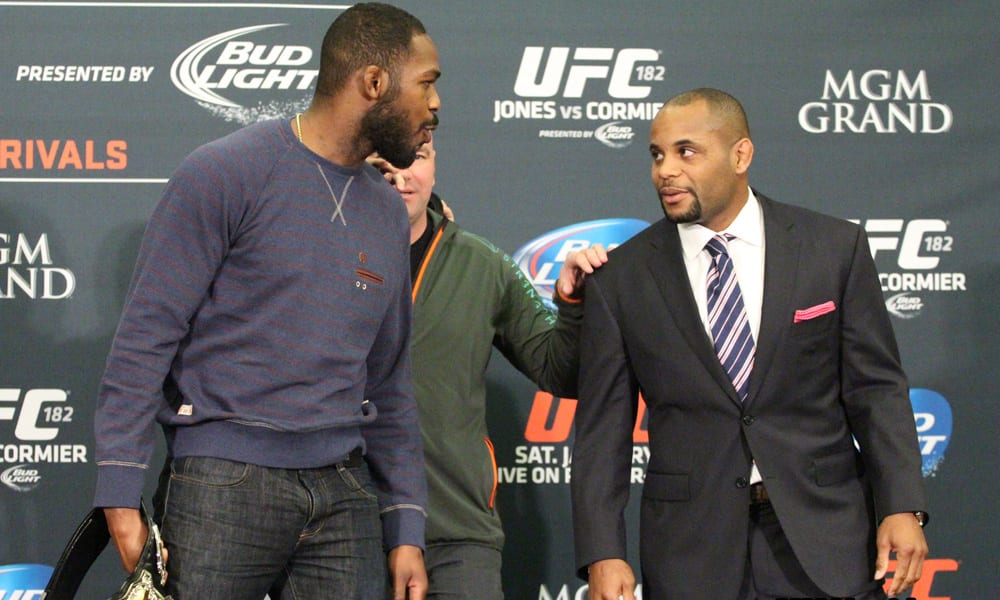 Jon Jones was never going to find it easy to sit on the sidelines while dealing with his latest out of the cage controversy, but it's an experience apparently made harder while Jones' ultimate rival Daniel Cormier has found nothing but success as he did.
Since Jones victory over Cormier at UFC 214 and subsequent suspension, Cormier has reclaimed the UFC light heavyweight championship and the UFC heavyweight championship — a longtime goal of Jones himself. Following that, Cormier has been booked to meet Brock Lesnar in a huge money making opportunity early next year, again, another goal of Jones.
Still, while not exactly being overcome with joy at Cormier's victories, Jones does see an opportunity for his own longterm gain. How so? Well, simply come back and defeat Cormier for both the world titles.
"A part of me was upset at first [at Cormier's win for the heavyweight title]," Jones said, speaking with RT. "First, I was surprised. Then I became a little upset because Daniel Cormier was crowned the first heavyweight and light heavyweight champion and in my heart I know that Daniel Cormier is not the light heavyweight champion, so it bothered me at first.
"The next day after a few hours of being awake I realized I cannot be a hater. Someone else's success has nothing to do with me. What God has for Daniel Cormier is for Daniel Cormier and what he has for me is for me, and so I had to find a place in my heart to be happy for him.
"At the same time, I feel like when I come back into the game and get my light heavyweight championship back and become a heavyweight champion simultaneously, I feel like the fans will know that I'm truly the first heavyweight and light heavyweight champion."
Realistically, Jones chances at getting Cormier twice again are slim.
Jones is currently still awaiting a USADA verdict for his drugs failure, and could potentially receive a four year suspension from the sport. Combine that with Cormier's consistent claims he's retiring in March of 2019, and it just doesn't seem like time is on the clock.
Still, Jones thinks two fights is what makes the most sense — especially as he views an opportunity to take all the accolades Cormier has accomplished.
"Daniel Cormier is stating that he has better knockout power at heavyweight, [that] he's more dangerous at heavyweight," Jones said. "It's believable but I would have much stronger knockout power at heavyweight as well. I think it would be a nice little twist that the fans would love to see but my vision is fighting him at light heavyweight first.
"I think that beating him a third time would really do something to his confidence. In his head, I feel like he thinks he can still beat me, especially because the fight was going fairly well until I knocked him out. I want to crush his confidence. I want to let him know that I'm going to be Cael Sanderson. Cael Sanderson is a wrestler who beat Daniel Cormier seven times and I'm going to be his Cael Sanderson.
"He said to me once, 'Jon Jones, I'll always be that kid in your bracket,' meaning he will always be in the same tournament as me. I'm sure he regrets that because we always see who ends up in the first place position when we go up against each other, but I want to break his will. I want to break the idea of him thinking he can beat me. I believe doing that at light heavyweight would be the smartest thing to do, for a third time.
"Leading into our fourth fight, a possible fourth fight for the heavyweight championship of the world, his confidence won't be in the right spot. It won't, and I think it will help me take that fourth victory over him and that heavyweight championship from him. I think I have his number.
"No matter how hard he trains, I train a little bit harder. I'm a little bit younger, a bit longer, a little cuter."
Comments
comments