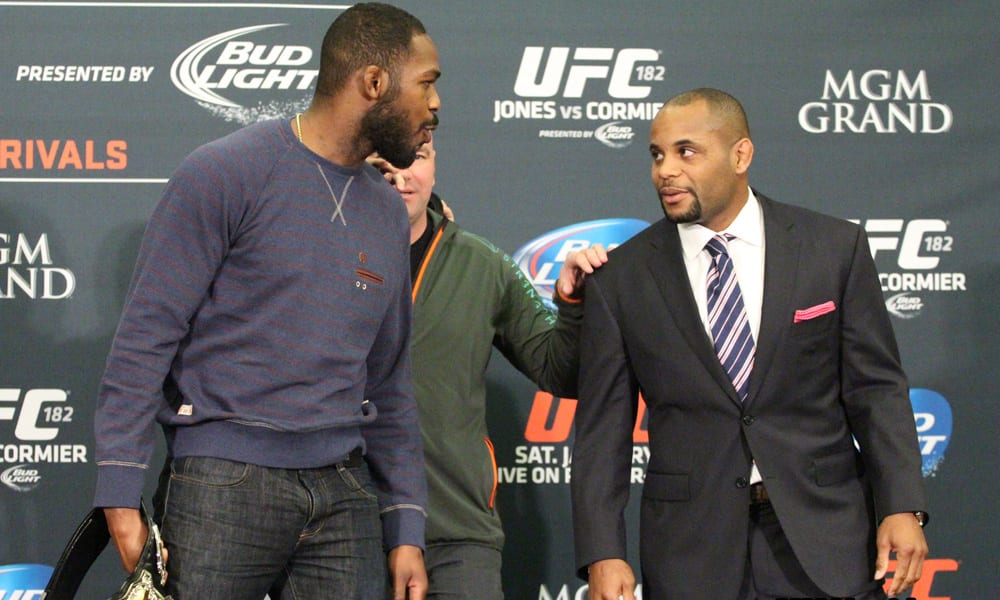 Jon Jones is coming back, and he's not doing it quietly.
The former UFC light heavyweight champion is just one month away from being eligible to compete again, and hasn't been shy about his intentions of reclaiming the 205-pound title — a belt currently in possession of Jones' greatest rival Daniel Cormier.
But if you thought Jones was going to be sheepish about his return from his latest drug controversy, you're wrong. After Cormier made comments on UFC Tonight that the anti-doping agency USADA could no longer visit him and test him, Jones took to social media to blast his old foe, claiming Cormier couldn't handle the fact USADA had cleared Jones' name of willful wrongdoing once again.
Stop calling me! @usantidoping pic.twitter.com/C6DDQTvQOr

— Daniel Cormier (@dc_mma) September 26, 2018
"You mad, Bro? USADA keeps calling but you're not going to pick up the phone because the second you hear them say I'm innocent is the instant the illusion you've created shatters," Jones wrote. "Then it's all real AGAIN and that's not a step you're willing to take. Instead you wrap yourself in your fake belt and keep telling yourself the shin that slammed into your face and the performance that buried you once again was enhanced. The fact you can't beat me kills you and it stops you from picking up that phone. If you answer it then the nightmare becomes reality.
"Then again, maybe you do pick up, accept the truth that you were defeated by a superior fighter and that gives you peace. Or it goes another way and you get motivated to try a third time and that will save me the hassle of having to dig you up before I bury you. So now that the illusion you've built is crumbling and the "violation was not intended nor could it have enhanced the athlete's performance" you still have to tell yourself something yeah? And while there was "absolutely no intention to use prohibited substances," it was my intention to kick your ass once again. Mission accomplished. Pick up the phone."
–
Comments
comments