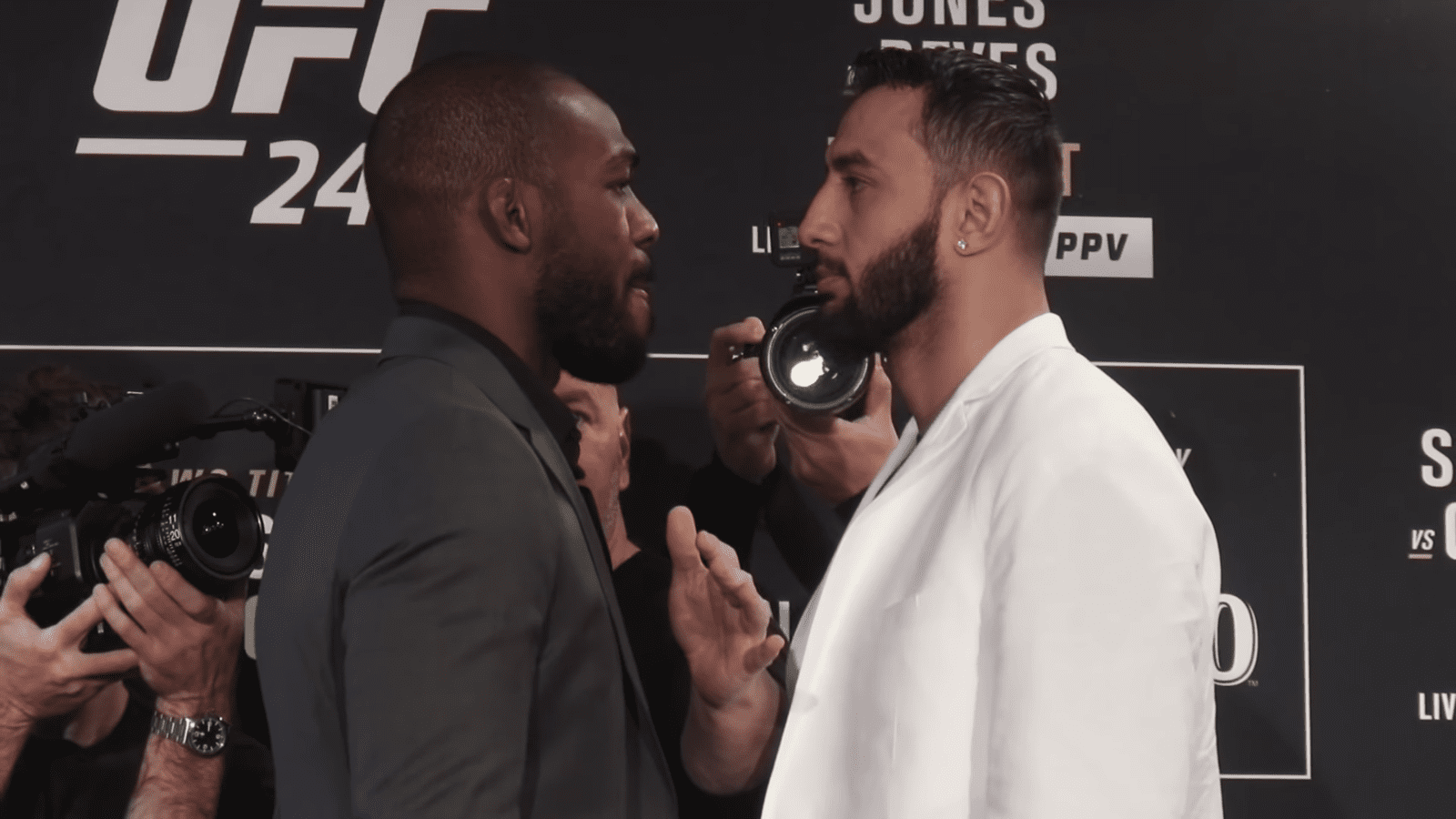 It was about as close as a UFC title get can get but both Jon Jones and Dominick Reyes appear to have emerged from their five round fight last weekend without taking too much damage, after medical suspension information was released by the Texas Department of Licensing and Regulation on Tuesday. 
In direct contrast to Donald Cerrone, for example, who has given a six-month medical suspension following his 40-second defeat to Conor McGregor last month both Jones and Reyes have been instructed to abstain from contact for a period of 31 days, suggesting that neither man obtained any significant injuries during the contest.
Reyes, who most observers maintain was extremely unlucky to not emerge from the fight with the light heavyweight world title around his waist, had suggested to Ariel Helwani on EPSN on Monday that he was unsure as to the extent of damage to his nose — but the medical suspension information suggests that any damage sustained is minimal.
Valentina Shevchenko, who defended her flyweight title against Katlyn Chookagian in the co-main event doesn't appear to have been so fortunate and has been suspended for a period of 181 days, while Chookagian will miss 45 days.
Two other fighters, Journey Newsom and Andre Ewell, are also staring down 181 day suspension.
The information released by the Texas Department of Licensing and Regulation doesn't appear to contain information as to when training (contact or otherwise) is permitted, nor if the athletes can be cleared for an early return by a medical professional.
View this post on Instagram
The full list of UFC 247 medical suspensions:
Austin Lingo: Suspended 31 days
Youssef Zalal: Suspended 10 days
Alex Morono: Suspended 61 days
Khaos Williams: Suspended 31 days
Jonathan Martinez: Suspended 31 days
Andre Ewell: Suspended 181 days
Domingo Pilarte: Suspended 61 days
Journey Newson: Suspended 181 days
Miles Johns: Suspended 61 days
Mario Bautista: Suspended 31 days
Andrea Lee: Suspended 31 days
Lauren Murphy: Suspended 31 days
James Krause: Suspended 31 days
Trevin Giles: Suspended 10 days
Ilir Latifi: Suspended 31 days
Derrick Lewis: Suspended 10 days
Mirsad Bektic: Suspended 31 days
Dan Ige: Suspended 31 days
Juan Adams: Suspended 61 days
Justin Tafa: Suspended 31 days
Katlyn Chookagian: Suspended 46 days
Valentina Shevchenko: Suspended 181 days
Dominick Reyes: Suspended 31 days
Jon Jones: Suspended 31 days
Comments
comments