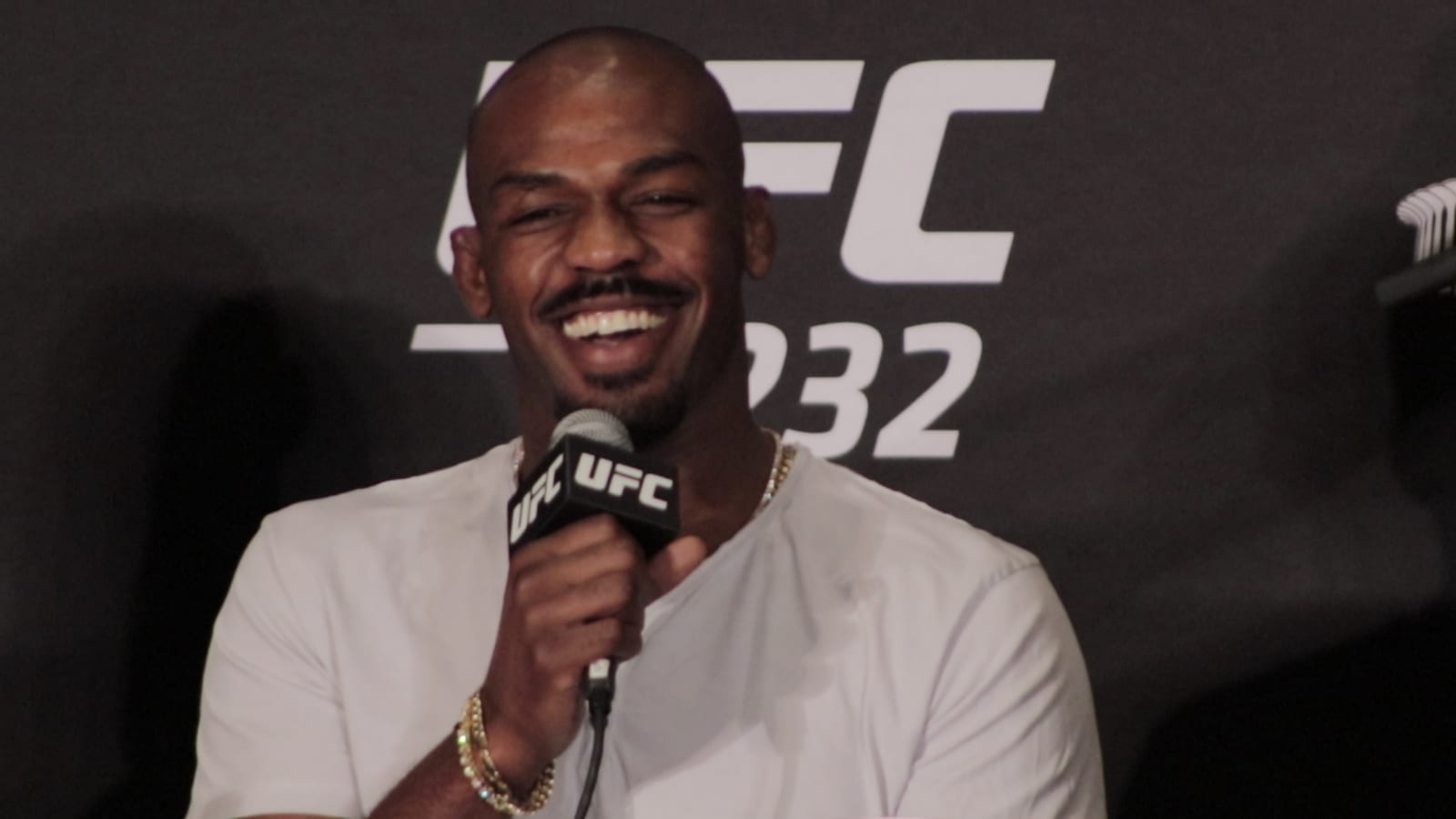 Jon Jones isn't letting Khabib Nurmagomedov get the spotlight and get away with it.
The former light heavyweight champ has been on social media plenty over the past few days, making the argument with fans that it should be him and no one else considered the greatest fighter in MMA history posting nearly 30 tweets on the subject before taking to Instagram to post a video to help illustrate his point.
"I'm talking to all you Khabib fans out there," Jones said. "Fifteen world titles to your guy's four. And you guys really talking about who's the best fighter ever? You guys are joking, right? Fifteen to four, are you guys kidding me?"
"The only person who could possibly come back and challenge my record and what I've done in the UFC is possibly Georges St-Pierre," Jones said. "He'd have to come back and win two championship fights to tie me. And I'm not even retired yet. I'm 33 years old. We've got a whole other chapter to go through. You guys are nuts. I love you guys so much. I hope you guys all have a great day.
"Fifteen world championships to four," he continued. "And all you guys that are going with this, 'He's more dominant,' argument? The guy just recently started fighting elite-level competition. Could you imagine me against the No. 10 ranked guy?"
Following his video argument, Jones returned to Twitter to continue drumming home the idea he needs to be appreciated more.
I know AKA must hate me 🥴

— BONY (@JonnyBones) October 27, 2020
Stats Kill

— BONY (@JonnyBones) October 27, 2020
Submitting Vitor belfort, Lyoto Machida, rampage Jackson (former champion) >Justin Gaethje 🤷🏾‍♂️ Ignore the facts if you want

— BONY (@JonnyBones) October 27, 2020
Bro Vitor was on all types of stuff, dude was murdering people still after our fight. Everyone was "undersized" when facing me I guess 🥴🐐💩 https://t.co/2BqzsHVyXi

— BONY (@JonnyBones) October 27, 2020
Literally every bad ass light heavyweight I can't remember either retired or switch organizations. 🤷🏾‍♂️🤫🐐💩 https://t.co/zX2sd5sZSn

— BONY (@JonnyBones) October 27, 2020
Vs a 23-year-old beating Shogun? Logic over emotion people 🧠 https://t.co/PONGEkvpS5

— BONY (@JonnyBones) October 27, 2020
Salty about what, the enormous difference in our accomplishments? Dude asked to take my throne instead of outworking me, woke up the lion https://t.co/IaCoaN3EBn

— BONY (@JonnyBones) October 27, 2020
Oh I know, this is the combat game baby. Got to have tough skin in this business, I take it and I give it. Very few friends in the conquering business https://t.co/XpI7Wl1mKa

— BONY (@JonnyBones) October 27, 2020
–
Comments
comments