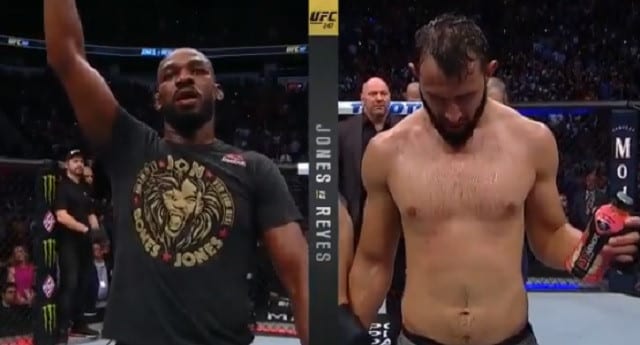 No sooner had the UFC 248 main event's judges' scorecards had been read out to declare Jon Jones the winner over Dominick Reyes, than the topic of a rematch arose.
Jones and Reyes went to war for five rounds, with Jones earning the victory from the three judges covering the bout. To many other observers, however, Reyes had done enough to win the world title, meaning the entire bout finished with a huge amount of furore.
In Jones and his team's eyes, they defended the world title that night, and while it might have been a close contest, the judges got it right.
"We lost the first round," Coach Mike Winkeljohn said, speaking with MMAFighting. "The second round I thought we edged. The third round, we might not have got that round. I honestly had [rounds] 2, 4 and 5. I think 2 and 3 were really close.
"I won't lie, when he hit Jon with a punch that put him down [in the first round], Dominick's back was to me and I said, 'Oh sh*t', I honestly thought he hit him in the chin, because my view was blocked. Of course, I found out that wasn't the case, but all in all, he came out guns blazing."
Naturally, with how tight the proceedings were, a rematch will likely contain serious interest. And, while it might not be next, Winkeljohn believes we will see a Jones vs. Reyes II in the future.
"There's no doubt about that," Winkeljohn said. "Jon likes rematches. Jon is a student of the game. We would all put our heads together, but at the end of the day, Jon sits down and says, 'This wasn't good, this is what he can do,' and he'll be even more motivated. Just like [Alexander] Gustafsson where you saw his performance was totally different."
Comments
comments