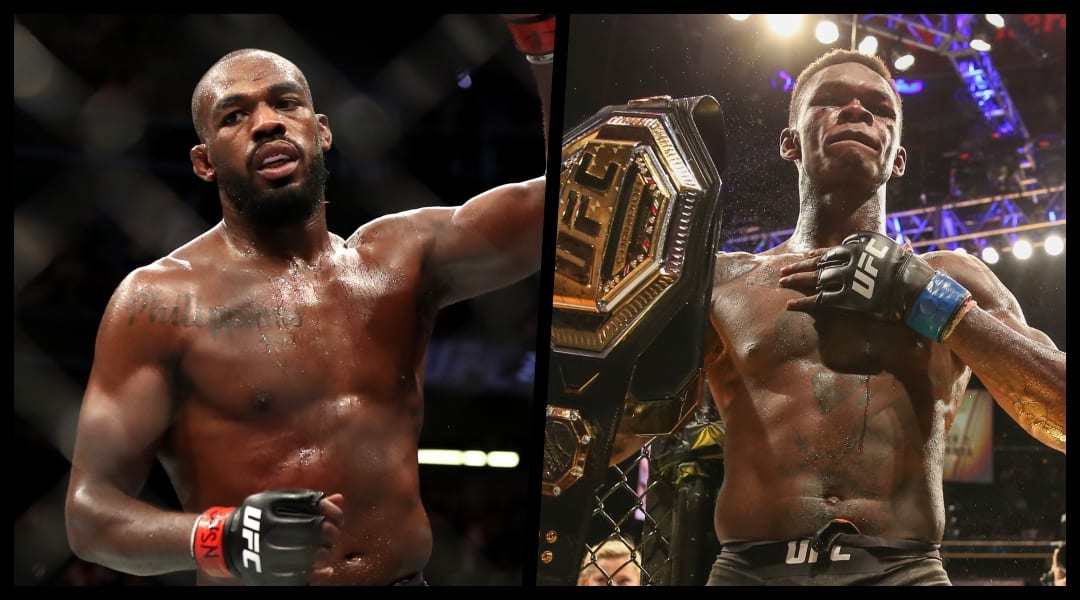 As whispers continue to grow suggesting a potential superfight between Jon Jones and middleweight champion Israel Adesanya, Jones' longtime coach Mike Winkeljohn has outlined just how much he appreciates the striking of his fighter's outspoken rival.
Jones, who relinquished his light heavyweight title recently ahead of a proposed move to the heavyweight fold, has engaged in verbal sparring with Adesanya on social media for much of the past year or so and both have appeared confident that a fight between the two will materialise sooner or later.
Adesanya had even suggested that the 2021 International Fight Week, the UFC's annual week of festivities in Las Vegas, could host the potential fight. However, with Adesanya linked to move up in weight himself to attempt to add the 205-pound crown to the 185-pound version he already holds, Winkeljohn admits that he is very impressed with Adesanya's skill — but forecasts that a fight between the pair should only take place in the heavyweight division.
View this post on Instagram
"I'm always amazed at some things he does," Winkeljohn outlined to Submission Radio. "I think to myself, gosh, if he only does these things against him, and then Izzy makes a small correction and solves that problem. So, he's a hard guy to figure out in that he has so many skills and such great timing, great speed and takedown defence. He's so well-rounded and getting better. He's getting better every fight. I'm watching it, I'm real impressed with what they've been able to do with the team down there in New Zealand.
"My first thought is heavyweight," Winkeljohn added when asked how the fight would take place. "Have Israel come up to heavyweight. Here's the deal, Jon Jones has always fought a who's who, and it's always been this guy, you have to go beat this guy to secure your legacy. And then he beats him. And then it's, okay, you have to beat this guy to secure your legacy. And then he beats him. Jon doesn't need to chase anybody, they need to chase him. That's the way I look at it. That's why he's the best.
"Probably heavyweight. Jon's current mindset is to get to heavyweight. That makes sense. Once he puts all that mass on, there's no reason to come back down. What's the purpose of that? Go back down to chase Izzy? Absolutely not. Jon's the man, that's why he's the greatest, and people need to chase him, and he's a leader, he's the leader of the sport."
Comments
comments