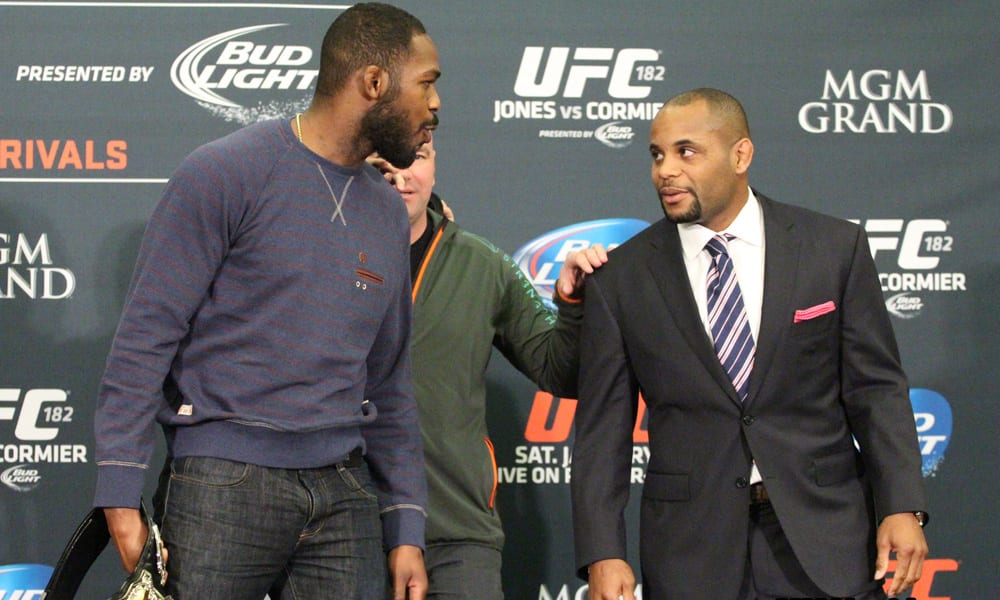 If Daniel Cormier sticks to his current plan and retires in March, then it's likely the world will never see a third contest between he and Jon Jones.
One of the most fiercest rivalries in MMA history, Jones currently owns two wins over Cormier in the cage, with one later being overturned to a no contest after trace amounts of the steroid Turinabol was found in his system. Now, Jones is set to return to fighting next week against Alexander Gustafsson for the UFC light heavyweight title — meaning Cormier will be forced to relinquish one of his two currently held world titles.
From there, Cormier looks likely to head on and fight Brock Lesnar in a huge fight before walking away from the sport for good — although that doesn't mean the UFC heavyweight champion isn't still pondering allowed about Jones' history with drugs.
"My deal's this, I never once said he didn't win the fight. I've never said that," Cormier said recently, speaking on the 'Jim Rome' podcast. "Even when people would tell me 'no you didn't get a fair shake, it's not cool, he cheated', I said the guy won the fights. Cause I've always said, I'm sure he's not the only guy I've ever fought who's on steroids. I've always said that. I've been very open about that but when you say a pinch of salt — why was the pinch of salt there?
"Why was it there without any explanation of why it got there? That's my question. Why didn't I have a pinch of salt in the swimming pool? That's where my issue is. You win the fight, go ahead and win the fight but don't leave anything to question is my response. Don't have a pinch of salt. Don't have tainted sex pills. Just don't have that stuff and then we never have these discussions to discredit the things that you have done. That's my response."
Evidently, those comments have irritated Jones, who just took to social media to blast Cormier and challenge him to a final fight — with extra money incentives.
"Daddys baby still out there whining," Jones wrote. "What proud "double Champion" just vacates his belt because someone else returns to the sport? Fight me one more time and prove you're actually the champ champ. I'll donate $100,000 to a charity in San Diego if you accept. Conor McGregor was an actual double Champ, the whole world knows your claim is a freaking joke. You're more than welcome to be my first title defense."
"Pinch of salt, no pinch of salt. You still had steroids in your system in a fist fight," Cormier stated. "Not cool."

Daddys baby still out there whining, What proud "double Champion" just vacates his belt because someone else returns to the sport? 😩

— Jon Bones Jones (@JonnyBones) December 20, 2018
Fight me one more time and prove you're actually the champ champ. I'll donate $100,000 to a charity in San Diego if you accept. Conor McGregor was an actual double Champ, the whole world knows your claim is a freaking joke. You're more than welcome to be my first title defense

— Jon Bones Jones (@JonnyBones) December 20, 2018
–
Comments
comments