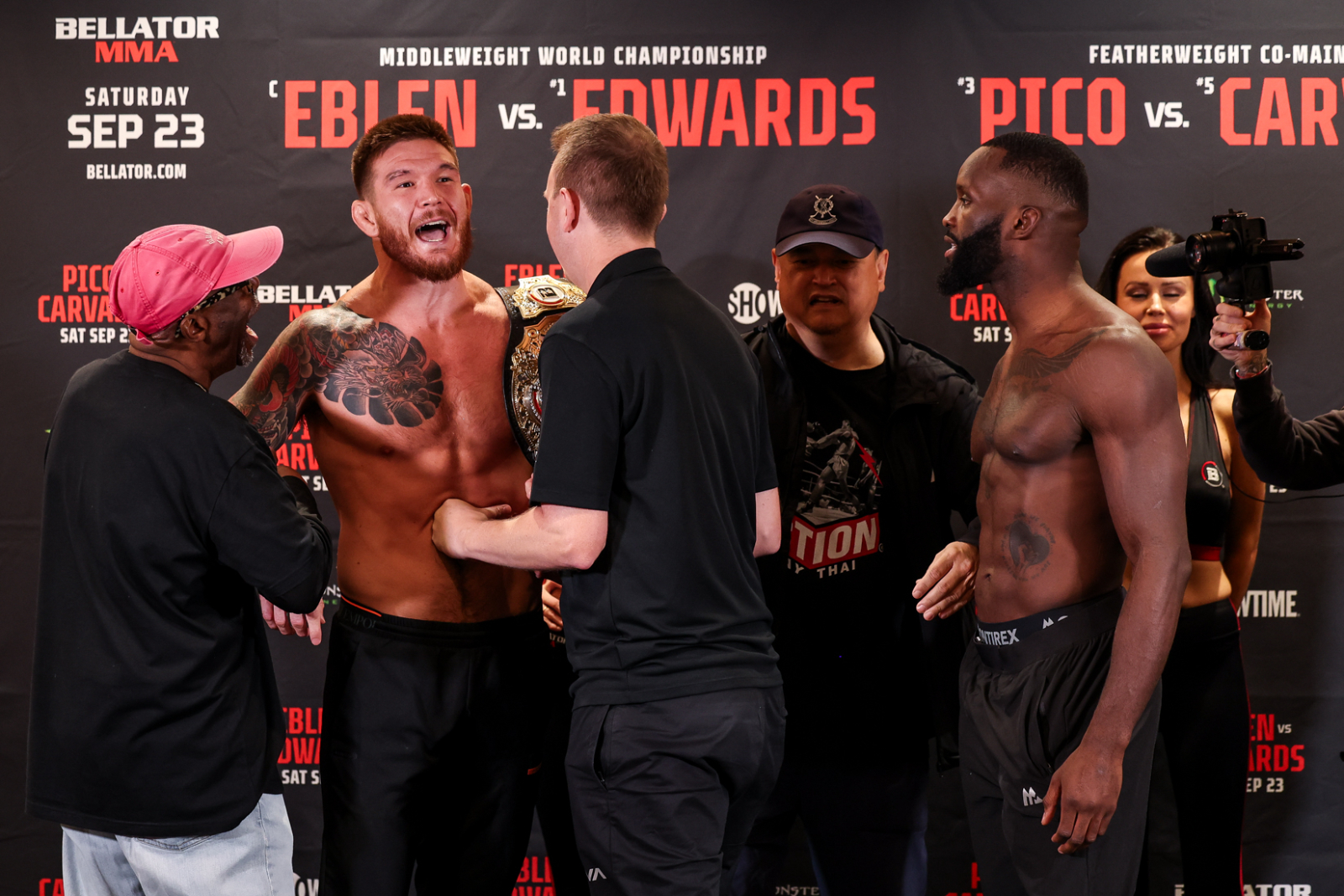 Johnny Eblen predicted that he would roll into Dublin last month and leave again having retained his Bellator middleweight title — and that is exactly what he did.
Eblen increased his unbeaten career record to an impressive 14-0 at Bellator 299 in the Irish capital on September 23, stopping title challenger Fabian Edwards (the brother of UFC champion Leon) early in the third round following a barrage of strikes on the ground. Afterwards, though, the American appeared to let the adrenaline get the better of him as he stood over the defeated Edwards and hurled abuse at him.
Following that, Eblen appeared to target Leon Edwards and the two had to be separated by officials. Eblen apologised in the cage as soon as the red mist dissipated, but elaborated further on the situation during a recent appearance on The MMA Hour telling Ariel Helwani that he regrets his actions — but denied spitting on his fallen opponent.
"What happened was, I was fired up, I was talking sh*t," Eblen said, as noted by MMA Fighting.  "I probably shouldn't have. I should have been a good sport, I should have walked away and let my fists do the talking, but I can't exactly remember what I was saying at the beginning.
"It had something to do with him staring at me. I was thinking about the staredown, and how he couldn't stop looking at me when they told me to turn towards the cameras, and I thought that was really weird and we kind of got into it. I remember at the end of it I yelled 'p*ussy' at him, at the very end. There's blood, sweat, and just sh*t everywhere. I watched it back, and I could see how someone could possibly think I did, but I was just yelling at him.
"I'm sorry that he thinks I did that," Eblen added. I just got a little too heated and was yelling at him. After the fact, I got to sit down and kind of gather myself and go over and talk to them and squash it, because I feel like we both hate Colby, so I hope he beats Colby. I hope Leon beats Colby. I don't like these guys, but I hate Colby more."
Comments
comments