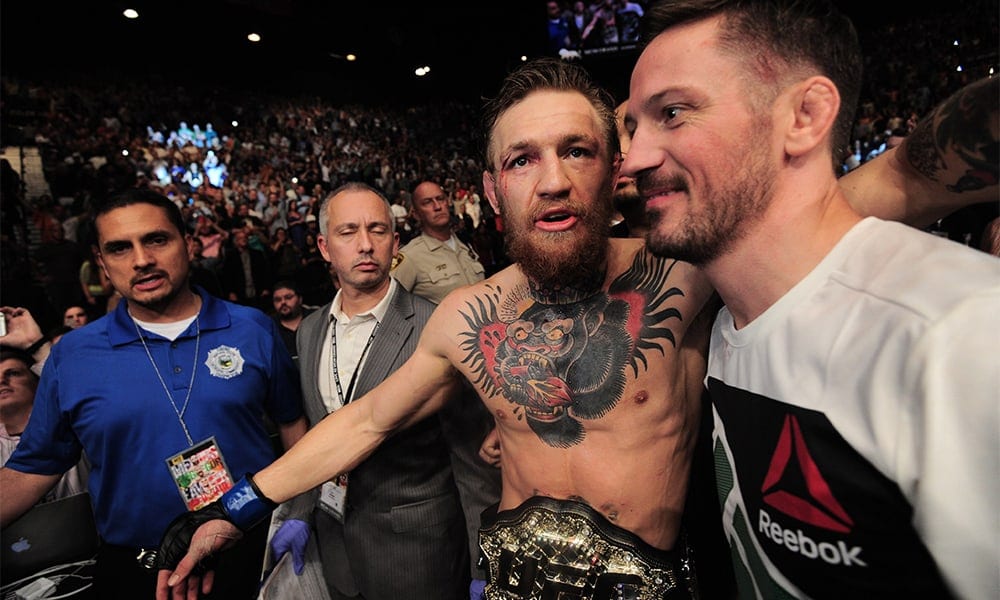 SBG Ireland head coach John Kavanagh has said that Conor McGregor's return to the UFC might come in the summertime. 
Speaking to Ariel Helwani in an in-person interview on the set of The MMA Hour on Monday, Kavanagh said that the initial plans for McGregor's return to the Octagon was for April, a date that likely would have coincided with UFC 300, but the promotion is now instead targeting a summer date for McGregor's return to competition.
"We were hoping for April. That was the hope. That was what we were told. And now it seems to be the summertime," Kavanagh said, via MMA Fighting. "I don't know [why]. That's literally what we were having a bit of a back and forward [about] today."
McGregor, who is back at full fitness after suffering a serious leg injury in his most recent bout in the cage, is "very frustrated" at the apparent delay in his return — but Kavanagh added that, while the delay isn't ideal, a few extra months of waiting isn't "the end of the world."
"But look, and this is what I was saying to him as well — yeah, OK, it's a knock back if we're hearing it was April but now it's July, but it's not the end of the world," Kavanagh said.
"It is an extra couple of months. It's not great. But hey, you're enjoying your training at the moment. Let's just keep that going. But the sport, you are around for such a short time as compared to — well, I'm not going to try to make a comparison to other sports or whatever, but like our careers, we can do this for decades. For fighters, is a short time."
Comments
comments