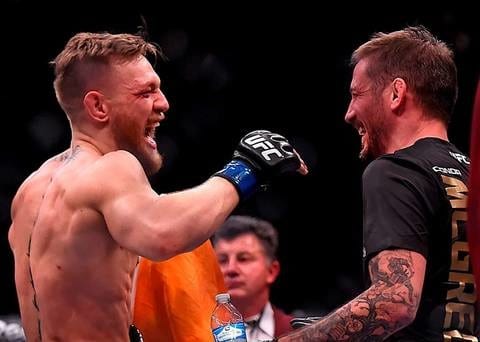 Conor McGregor's boxing match with Floyd Mayweather is, apart from being a likely record breaking affair, a meeting of two very different styles.
And while McGregor will have to deal with the man whom no one else has been able, he'll be working alongside his longtime coaches in preparation to solve that puzzle — John Kavanagh and Owen Roddy.
In an extensive interview with Brett Okamoto at ESPN.com, Kavanagh went into detail on how he and the rest of team McGregor believe it'll be they — mixed martial artists, not boxers — who will put a '1' on the end of Mayweather's record.
"I have a pretty good idea on how I see the fight going," Kavanagh said. "Over the next three to four months, we need to put that plan into action. Drill it. See how it works in the gym. Mix and match the plan until we have it right for the night of the fight. I will say this: Mayweather has proven himself to be perfect against guys who have trained purely in boxing. I was asked very early on, 'Are you going to bring in Freddie Roach? He's the greatest boxing trainer in the world right now'.
"OK. I'm an evidence-based guy. I don't make decision based on emotions. Has Freddie trained somebody to fight Mayweather before? Yes. And a southpaw. A hard-hitting southpaw! And the plan didn't work. I don't see a point in doing the exact same thing. Obviously, Freddie Roach is incredible. I've been trying to immerse myself in the boxing world, and Freddie has been called one of the last great guys to understand it all — trainer, cutman, psychologist to the young fighters, technician — but he did come up short in his approach to Mayweather. So, we can't follow the same formula."
While much has been made of McGregor's MMA striking not being able to translate over through the ropes, particularly against one of the best defensive boxers to have ever lived, Kavanagh disagrees entirely. Pointing to the forty-nine other men who have all been training in solely boxing only to come up short, instead the SBG coach believes McGregor's avenue to victory will come in his unique challenge.
We're not going to spend 10 to 12 years doing something one way and then, because it's a boxing fight, change everything for three months and beat the best defensive boxer of all time," Kavanagh said. "No. We've got to come at this with an MMA striking strategy. Of course, hands only, but maybe there are things we can do from an MMA perspective, which, if people study boxing from the early 20th century, those things were a bigger part in the boxing game than they are today. We're bringing an old-school boxing approach."
While the details of the fight are yet to be resolved, and the boxing match overcomes all at present, much has been made of UFC president Dana White's comments that McGregor has told him personally that he wishes to return to mixed martial arts immediately following the bout. According to Kavanagh, that's completely accurate.
"We'd love to get an MMA fight in by the end of the year," Kavanagh said. "I don't know [who against], since we're unsure what weight this boxing match will even be at. I guess your two big names at featherweight are Max Holloway and Jose Aldo. We'll see what happens with that this weekend. And at 155, the names are Tony Ferguson and Khabib Nurmagomedov. It's hard to say. I would like to see the fight this weekend, and I'd like to see a few more fights between the top guys at 155 pounds this summer.
"I've been around Conor for so long and I know to keep everything open. He could ring me the day after this boxing fight and say, 'Coach, 145 pounds, four weeks,' and I just wouldn't be surprised. If he gets excited by something — I mean, look at what we're talking about. This incredible boxing fight was just him getting excited about an insurmountable challenge.
"Whatever gives Conor that wild-eyed, hyperactive enthusiasm is what he's going to do. It's going to take someone like Aldo once was, or now Mayweather in boxing — one of those guys that puts together incredible victories, gets fans behind him and gets Conor excited."
But, while White and Kavanagh maintain McGregor will return to the Octagon, many remain skeptical. Pointing at the windfall of cash he's likely to earn for the Mayweather contest, fans look at the smaller purses found in MMA and assume McGregor would have no interest in fighting the cage again.
Kavanagh disagrees. Instead, potential opponents need to see getting McGregor to fight them as a job in itself. Essentially, just like Mayweather has, make him relish the challenge.
"It's the opposition's job now. I see it as a job and role of others to create momentum and noise," Kavanagh said. "Some are doing it better than others. Tony Ferguson is doing quite well staying out there, pushing things on social media. He's got some good wins. That's what they all should be doing. Not sitting back and blaming Conor for this, and blaming the UFC for that. Go in there and go through guys like Dustin Poirier in the first round. Do it in the fashion Conor has, with the style he has done it in.
"It's not the money that's motivating him, it's the challenge. It's the guy that makes him get chills and say, 'He's got this set of skills, I've got my set of skills. How can we beat that, Coach? Let's put a game plan together and climb another mountain'."
Comments
comments