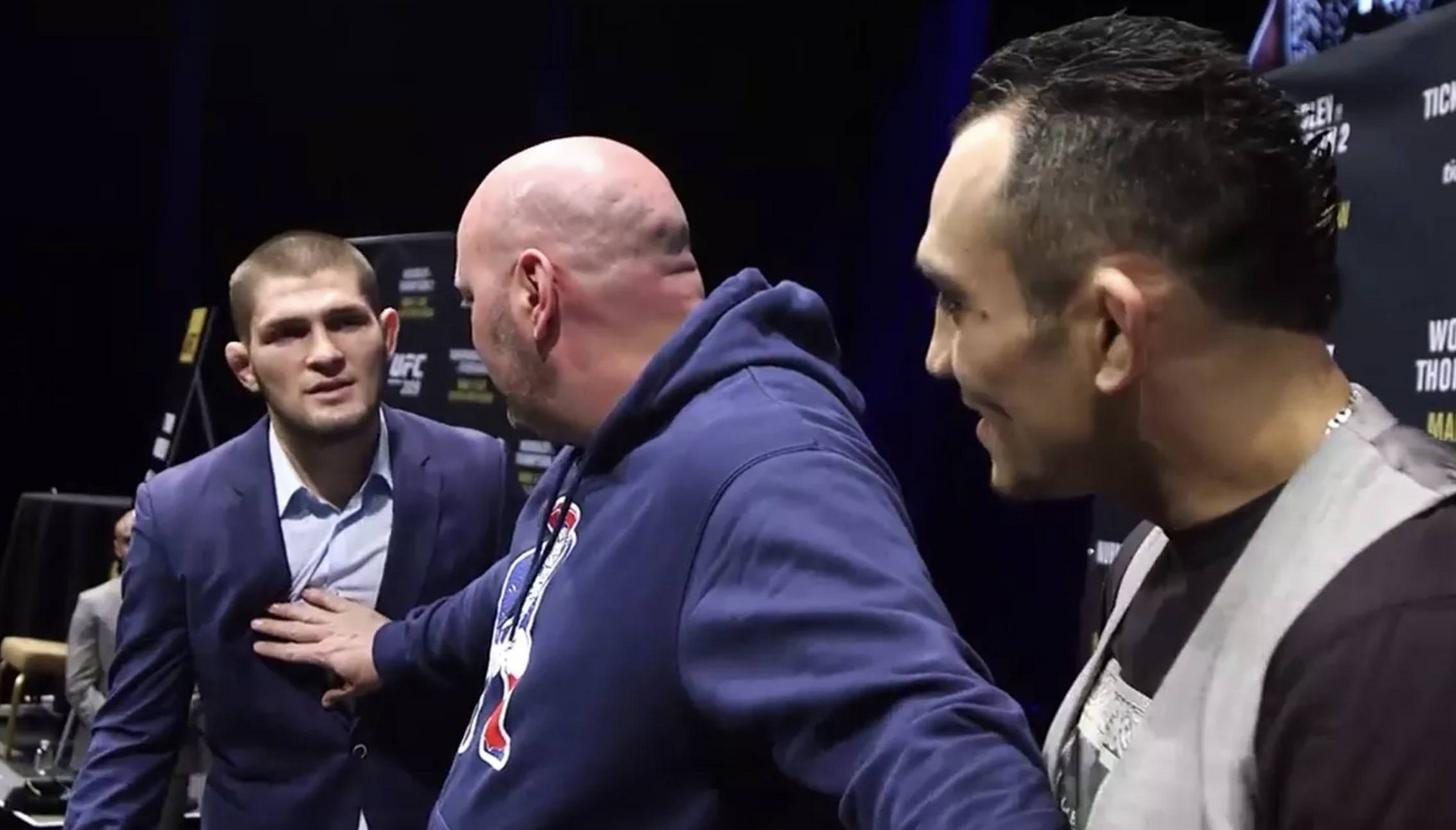 The UFC have been attempting to pair top lightweights Khabib Nurmagomedov and Tony Ferguson for the best part of two and a half years and on April 7th in Brooklyn, New York, it is finally scheduled to happen.
A match-up between the two was first slated for December 2015 but, much like the two bookings which followed, it fell apart for one of the variety of injury and weight-related issues. However, as the old saying goes: Good things come to those who wait. This fourth potential meeting between Ferguson and Nurmagomedov comes at a time when the stakes couldn't be set much higher.
Awaiting the winner of the UFC 223, apparently, is the UFC lightweight championship, though Dana White and the rest of the Ultimate Fighting Championship brass have remained non-committal to the status of the title currently held by Conor McGregor.
Indeed, the Irishman's name will loom large in the arena on that April evening. Championship credentials for the winner are one thing, but the chance to face McGregor in their next bout is about as big a bounty as exists in mixed martial arts nowadays.
The question as to the rightful owner of the UFC's 155-pound title has been a dominant topic on social media and on web forums but, as John Kavanagh told TheMacLife.com, that is where he sees the debate as staying.
"I think that's a question for fans and forums to decide," said Kavanagh when asked if the Khabib/Ferguson bout is for the undisputed UFC title.
"That's the fun of the game; is it for the title, is it not? I think the reality is, no matter what anyone says, that the winner of that contest will not feel quite there until they beat Conor. That's just a given. They won't feel quite there financially, or they won't answer the questions that they have for themselves or fans have.
"Like I said, I'm 41 so I'm not going to get too bogged down in titles and stuff like that but I think it's a fun thing for fans to go back and forth with. That's part of the fun, you buy the pay-per-view and you argue with your buddies."
As much as he is looking forward to seeing it, Kavanagh says that he isn't getting his hopes up too high considering the difficulties in making this fight in the past.
"I'm looking forward to watching that fight — if it happens. This is the fourth time it has been scheduled, I have a horrible feeling it's not going to happen. I really hope it does. Putting Conor completely out of the picture, it's just a very interesting fight. As someone who is a fan of grappling, it's just a very interesting match-up with a looser, submission heavy game versus a tight control game.
"That is a fight which is very, very interesting for me to see. I hope I'm wrong on this one but I just see it falling apart."
.
Comments
comments