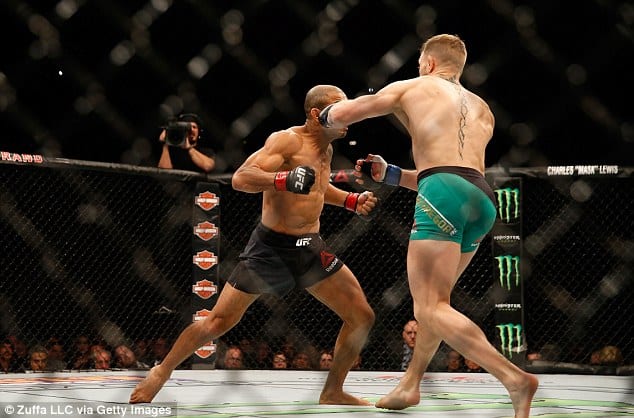 This weekend, current UFC featherweight champion José Aldo will attempt to defend his 145-pound title against Max Holloway in the UFC 212 main event in Rio de Janeiro.
Aldo, who was awarded the title outside of the cage following Conor McGregor being stripped of the championship he had won from the Brazilian several months prior, faces a challenger in Holloway who has been one of the featherweight division's rising stars in recent years.
With Aldo's 13-second knockout suffered at the hands of McGregor still fresh in the memory, can the Brazilian underline his status as one of the greatest featherweight fighters ever or will Holloway continue his winning streak on Aldo's home soil?
To figure out a potential answer to this quandary, it is necessary to ask if José Aldo has adequately exorcised the demons he amassed in his record-breaking loss to McGregor at UFC 189. To lose a title in such swift fashion, as well as a decade-long winning streak, would be enough to make most athletes question their status in a sport as tough as this one. To Aldo's credit, he returned in great form several months later to stifle Frankie Edgar en route to a unanimous decision win at UFC 200 last summer but the long, rangy Holloway presents challenges more in line with those of McGregor than those of Edgar.
A win over Holloway would go a long way to re-establishing José Aldo as one of the foremost fighters in the world but, as Joe Rogan said on a recent edition of his podcast (as reported by MMAFighting), to overcome something like the McGregor loss is easier said than done.
"Aldo's legacy and his reign is always gonna be tarnished by that 13 seconds against McGregor," Rogan said.  "Which is so crazy because you take away that fight and he's got one brutal war with Chad Mendes where he got rocked and stunned, which is a tough fight – the second one – great fight. And those are the only hard moments he's had inside the octagon other than maybe round five against Ricardo Lamas.
Lamas had him down and was doing a little bit of ground and pound in the fifth round and that was Aldo was too drained making that weight, but he's smaller now. He generally looks smaller. He definitely chose to slim down because he was having unbelievably brutal weight cuts early in his career. He was just too big for the weight class so he just chose to slim his body down."
Comments
comments