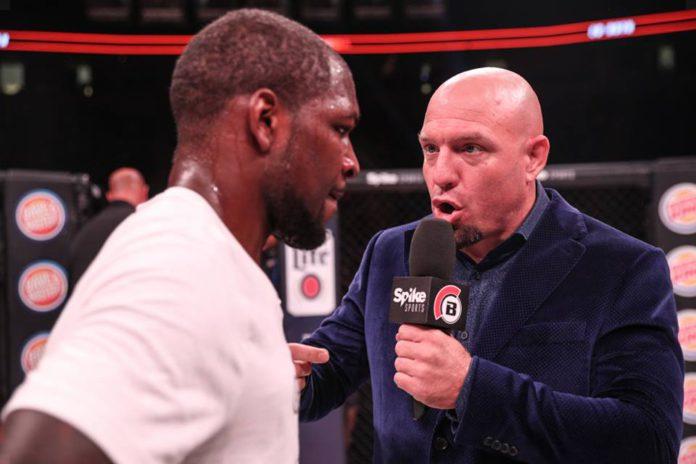 It's something of a long running joke amongst mixed martial arts fans that commentators Joe Rogan and Jimmy Smith are essentially the same person. You won't ever hear Rogan himself suggest as such.
In fact, just days after Smith had been let go from his long time position with Bellator MMA, Rogan invited Smith onto his Joe Rogan Experience podcast to discuss Smith's changing situation. And over the course of a couple of hours, Rogan made it clear that he considered Smith to be one of the best in the game.
"I tried to get Jimmy Smith hired by the UFC four years ago," Rogan said. "I was like, 'Dude, you want better people? You want more people? Hire that fucking guy. He knows what he's doing, he's excited, and he loves the sport. I was telling him you're a great guy, he's genuine, he's a real fan, and he's fucking good at it. Go get him'.
"You fucked up, Bellator. I've been telling everybody Jimmy Smith's the best out there, and you let him go. That's a huge error on their part. I would be thrilled if somehow or another they were able to work it out where Jimmy Smith was at the UFC. That would be what I would like to see."
For what it's worth, Smith feels no ill will towards his former employers.
"They were great to work with," Smith said. "What happened was I had a deal with an option year, and 2018 was an option year. When I was doing the show in Verona, N.Y., my boss sat me down and said, 'We're not going to renew for 2018. We want a different deal'.
"When your girlfriend comes to you and says, 'We need to talk.' It's never to say, 'I don't give you enough blowjobs.' They never say that. It's always bad. They said, 'We want to change the deal around. They did make an honest effort to keep me. They really tried, they just.. they didn't make me an offer that was worth me coming back. That was the deal."
Comments
comments