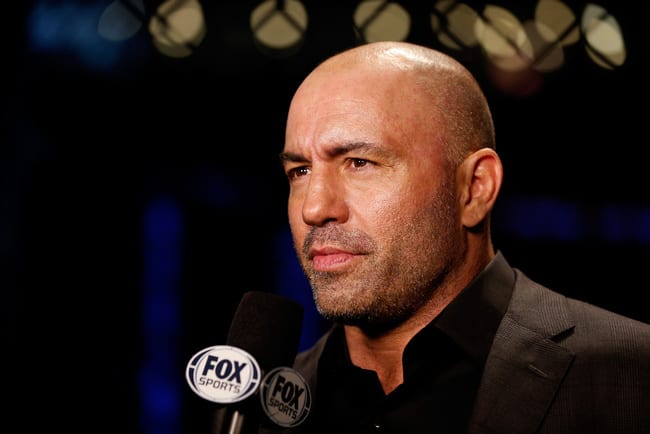 Joe Rogan understands fighters trying to earn themselves a larger paycheck but believes the current financial climate and uncertainty with the coronavirus pandemic has the UFC tightening their purse strings.
Over the past couple of weeks, fans have seen names like Henry Cejudo, Jon Jones and Jorge Masvidal all make the case to get paid more, with Jones and Masvidal even seeming willing to sit on the sidelines until a time the promotion come correct. Because of his decision, Masvidal has now missed out on fighting for the UFC welterweight title.
"Right now in particular, there is probably less money because there is no live gate, and that's an extreme amount of money," Rogan said, speaking on his podcast.  "But there's also fighters that agree to certain deals. They agree to like, an 8-fight deal at X amount per fight, and then they become more popular and then they want to renegotiate their deal, and the UFC is like, 'Look, we're just trying to stay open. We're not going to renegotiate anything. You can take it or you can leave it, but this is what it is'.
"I think it's a matter of that."
Rogan went on to say the more organisations out there to rival the UFC, the better, as it gives fighters opportunities to renegotiate and earn themselves more money. That said when the UFC's bottom line is affected by world events, Rogan says he's not surprised to see that also affect the fighters.
"I think they should get paid more," Rogan said. "I think everybody should get paid more. I think it's a crazy way to make a living. I think you should get the most amount of money you can possibly get.
"But it's also a business, and I think if they are struggling as much as I think they are — I don't talk finances with them, but I know that WME [now Endevour] who own [the UFC] are hurting. Bad, they're laying people off. Most businesses are hurting. All the entertainment business is fucked. Live nation's fucked. So what do they do? That's what I think.
"But when it comes to me as a human being who likes fighting, I know how fucking dangerous that shit is. You should get paid an incredibly generous amount of money to step in a cage fight for millions of people to see."
https://www.youtube.com/watch?v=JHHBp702030&feature=youtu.be
–
Comments
comments