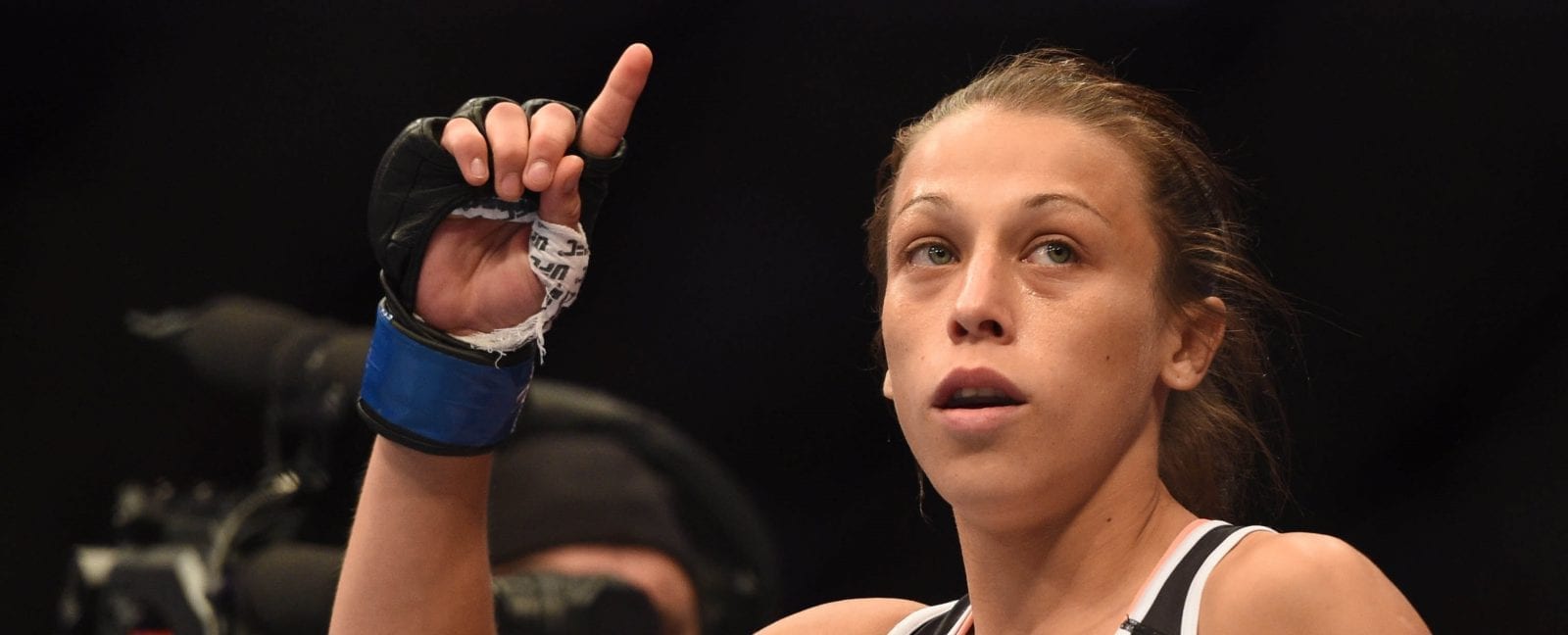 On April 7th in New York, Joanna Jedrzejczyk returns to the city in which she lost the UFC women's strawweight title and suffered the first defeat of her professional career. Once again the Pole will attempt to conquer Rose Namajunas, whose waist the UFC title rests across nowadays, and is leaving no stone unturned in her quest to reclaim the title which she believes is her rightful property.
"Life has been great, better than before," Jedrzejczyk said to Jim Edwards of MMAnytt. "After my last fight my life just got better. I have honest people and I'm surrounded by good and honest people and life is good. I know the value of my life, my family, my friends and the real people around me unlike before.
"I've been training at American Top Team as always with Mikey Brown, Katel Kublis, Phil Daru my strength and conditioning coach, Dyah Davis my boxing coach, but the whole of ATT is involved in my preparations before my title fight with Rose Namajunas. I'm very thankful and grateful for the owners of ATT for doing an amazing job."
Jedrzejczyk was the final fighter to weigh in at her last bout in New York, also against Namajunas, which sparked speculation that her weight-cut hadn't gone as planned. This time around, she says, things are different.
"Did you see my Instagram story today? I'm weighing 126lbs," Jedrzejczyk said. "Usually we want to be this weight during the fight week on the Tuesday, but I'm already there. I don't care what people are saying, I know what I'm doing right and I'm taking care of everything. There's not going to be any single mistake made before the fight. That's the thing, I'm Polish, you know. Polish women can do everything, you know."
In November Jedrzejczyk was working with Perfecting Athletes to manage her weight, a relationship which she wasn't entirely happy with and has since been severed. This time around she is taking a more hands-on approach.
"I like to cook and I like to prepare my meals. I'm preparing all my meals and since the last two or three weeks I've been working with a new nutritionist, but I don't want to talk about that. Someone is helping me with that, but you know, for the first five or six weeks I was taking care of that. I dropped my weight to the very low limit and I'm excited about that.
"I've been in this business for 14 or 15 years, I've got lots of knowledge," Jedrzejczyk continued. "There was loads of drama last camp and loads of things I didn't need, but like I said, life is different right now. After the fight I said I would keep my eyes open and that I would expect more from myself and people around me."
Sometimes it is said that you learn a lot more about yourself in defeat than you do in victory and, with that said, Jedrzejczyk says she has refocused her efforts entirely.
"We are an amazing team and we're all on the same page," Jedrzejczyk said. "After every training session the coaches talk about my next training, what we can do and what we can improve.
"You can't see any of my striking or my jiu-jitsu training on my social media. My social media has slowed down a little bit because I have to be very organized, I don't even have like ten minutes for myself during the day. Everything that I'm doing now is for the fight and to win back my belt again.
"I feel stronger, more powerful, better balance and I feel my body more. It's good preparation to avoid injuries, but of course, I brought my physiotherapist from Poland as usual. He's been here three weeks and he's helping me twice a day in training.
"I'm not posting any videos," Jedrzejczyk continued. "I'm not keeping everything top secret, but I move different and I feel different and I put on great work. I cannot say more about training but we have a good plan and my body will be 100-percent to show up and takeover at UFC 223.
"Every fighter wants to get better and I want to get better. I'm a better fighter now and I will take back what belongs to me."
To reclaim the UFC's 115-pound title, Jedrzejczyk faces a significant challenge. Namajunas, thought to be much more of a challenge on the ground prior to UFC 217 last November, dropped Jedrzejczyk early in the first round and finished the fight soon after sending Madison Square Garden — and its press room where your writer was stationed — into a heaving mass of incredulity.
However, Jedrzejczyk is not concerned about once again facing Namajunas.
"I don't feel nervous, I'm not stressing about it," Jedrzejczyk said. "When I started the camp I was like make sure that every single day and every single training you push yourself, give everything you have. This is what I've done for the last few weeks and tomorrow is my last sparring session. I feel so confident and I feel like we got to the point that we wanted to be, and where we planned to be at the beginning of the camp.
"I'm just happy you know. I feel like I'm going to go there and show everyone that I'm a different fighter and that I'm a different person. The real Joanna you know? I know Bruce Buffer we say 'and the new,' but also 'and the real.'
"I wasn't a competitor in Madison Square Garden, but this time I've made sure that I'm ready 100-percent physically, mentally, with the weight cut, with the rehydration, everything is going to be on point."
"When you get to this level, the highest level, when they see you like falling or you slip, they're like hating on you and laughing at you, but of course, they don't know about my life, they don't know about me, they don't know about how I trained and how I prepared for the first fight with Rose Namajunas."
Jedrzejczyk was the overwhelming favourite when she last stepped into a cage with Namajunas, however the line appeared skewed as soon as the first bell rang. Rather than harbouring resentment for her opponent, Jedrzejczyk says that Namajunas' performance last November enhanced the Pole's respect for her.
"I'm just human and we can all fall," Jedrzejczyk said. "I have so much respect for Rose Namajunas,"
"The same as I had before the first fight. I didn't disrespect her and I put on a great camp before our first fight. The thing is, anyone can win a short fight, a quick fight. Of course, she did it perfect and she punched me, she was precise and she had enough power that night to knock me out, but like I said, I wasn't a competitor that night and I went through so many wars.
"She won the battle, but she isn't going to win the war and I'm going to win on April 7."
Comments
comments