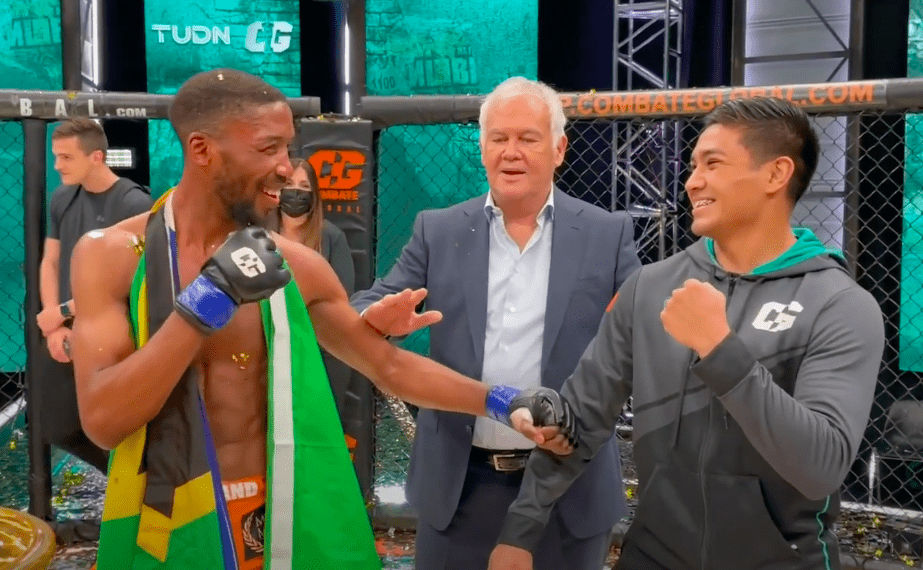 For years now, former amateur world champion Frans Mlambo has been talked about as one of the biggest MMA prospects to have emerged from Ireland and a few days ago he delivered on that potential.
The longtime SBG Ireland stalwart emerged from a field of 8 men to claim victory in the Copa Combate bantamweight tournament, where Mlambo defeated three men in one night to claim the (massive) trophy and a cheque for $100,000. Mlambo (13-5) will next take on the Combate Global bantamweight champion, Mexico's David Martinez (pictured above) but before that happens sometime early next year, Mlambo told MMA Junkie of exactly what the tournament win means for him.
"It's absolutely life-changing," he said. "My record looks far better now. It just means a lot. I'm keeping it a secret how much it's going to change my life but I'll let you guys know what the big reveal is soon enough.
"It's going to transform my life. Like, I'm obviously going to be able to do more. I'm going to be able to train more and stuff like that because I don't need to worry about finances and stuff."
View this post on Instagram
Mlambo, a four-fight Bellator veteran, went 3-1 under their promotional banner, losing only to Ricky Bandejas but also claiming victories over Cage Warriors champions Nathan Greyson and Dominique Wooding. A Cage Warriors championship, remember, is one of the more bankable routes to the UFC and the list of fighters to hold wins over TWO CW champions is a short one.
The tournament structure, where Mlambo fought two one-round fight and then a three-round fight in the finals, was new to him but he says it was something he enjoyed.
"It was very different but, I felt like I was ready for it," Mlambo said. "Even after the first round, which I felt like was the toughest — that guy played a perfect game to how he needed to beat me. He needed to get me against the fence and stop me from hitting him and he did that pretty good. But even when he had me against the fence, I kept doing damage, and that's kind of what I learned what to do.
"Like, how to deal with people over time because I'm a striker. They want to close that down, but I've learned to hurt them from there. The next guy was really different as well, and then the next guy was different as well, but they were all very tough, all very good. It was an exciting thing. I wouldn't mind doing it again, it was very, very fun."
Something tells us that Mlambo will have plenty of experience in big fights before his career is all said and done.
Photo credit: Hablemos MMA
Comments
comments