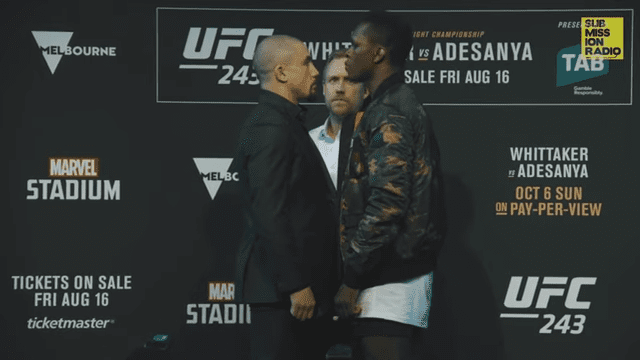 Israel Adesanya says if UFC middleweight champion Robert Whittaker wants to beat him, he should seriously consider grappling.
The two met face to face at a press conference in Melbourne, Australia, which is set to be the host of their contest on October 5 (October 6 local time) later this year. It's being hyped as the biggest night in Australasian MMA history.
So far the dynamic between the two has been Adesanya playing the instigator, while Whittaker sits back relaxed and maybe mildly perplexed. That narrative continued when they met again on stage yesterday.
"My advice is to shoot," Adesanya said. "If he wants to get the work done, shoot. I mean, no one's been able to do it. If he wants to stand with me, I like to stand and bang. Let me bang, bro. I'd advise him to keep me grounded come Oct. 6."
"My last fight, I looked like a potato – I let the Mexican touch me a little bit," Adesanya continued. "His last fight, as well, with the Cuban, he got dropped a lot, got rocked a lot – and that's a powerful man, an athletic man, an old man. But I'm young. I just turned 30. I'm in my prime right now, just started. He's younger than me – I haven't forgotten about that – but he gets touched a lot, and I'm a guy you don't want to get touched by.
"Ten rounds with Yoel Romero, and fucking what? You don't need 10 rounds with a man. If you spend 10 rounds with one man, that's five rounds too long. All you need is three, two or one. Understand that."
–
Comments
comments