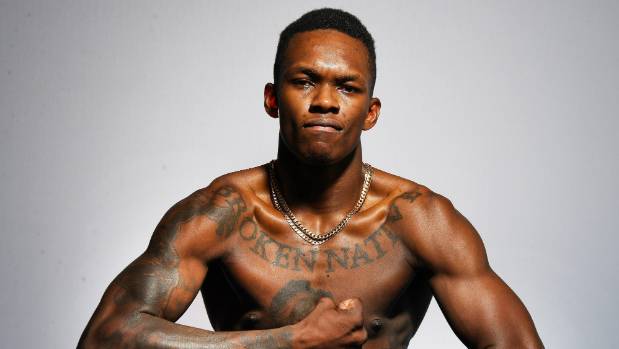 When UFC debutant Israel Adesanya mockingly urinated over the Octagon after finishing Rob Wilkinson at UFC 221 recently, the newcomer simultaneously made a statement and an impact.
Combine that with a stellar promo on the microphone afterwards, and Adesanya was shot into fans eyes as one to watch in the future. Indeed, some are even going as far as to dub Adesanya a fighter of 'the new generation', or label him the next rising star. While Adesanya hears the proclamations — and to a point sympathises with them — you won't ever catch him resting on his laurels after a single, good performance.
"I keep the same energy," Adesanya said, speaking to TheMacLife.com. "Ain't nothing changed but the change really. Everyone's coming on now, man. It's kind of funny, you know when you're coming up and you need people looking out for you — when you're trying to get money, sponsors — no one wants to be around. But when you finally hit the big time, they all come through. Like I said, I keep the same energy, I'm still me.
"This fight game is a game of snakes of ladders, like the board game. There's a lot of snakes, and a lot of ladders. You have to avoid the snakes and climb the ladders. I'm young, I'll make mistakes, but I won't make the same mistake twice. I'm always objective about why or how I feel or my attitude. I question everything about myself, and that keeps me honest. If I just be smart with my movements, I'll be alright."
Certainly, the UFC sees they have something.
Quite often, fighters from New Zealand and Australia are kept to cards in that part of the world so as to sell tickets to the local market. For someone like Adesanya, a fresh face with a sole appearance in the promotion, he could be expected to fight low, unranked opposition a couple of times a year to build his experience in the cage. Instead, the UFC have already been on the phone with the intentions of getting him booked already — potentially as soon as March or April.
"I just finished training right now," Adesanya said. "I'm feeling great. The UFC offered me these two guys — everything's weird, man. Even the fight I just had [against Rob Wilkinson], I knew I was going to fight him. Even though seven other guys turned it down, I knew I was going to fight him. And then I saw a guy [fight recently] and thought, 'Hmm. I wanna fight this guy', and the offer kind of came through today. I have an idea of who I want to fight. … It's a decent jump up, but I'm not sure if it's top 15. I don't know his name, I know his face — but that's need to know basis for now."
But while that would suggest the UFC sees Adesanya as someone they'll be booking to fight in the United States, you won't see the man himself moving. It's fairly common for fighters (particularly younger ones) to migrate to America once they make it to the UFC, seeking out a higher level of coaching or training partners in order to up their game and remain on par with the UFC roster. With a number of 'SuperCamps' to choose from, you could be forgiven for thinking Adesanya would make a similar decision, but 'the Last Stylebender' says he isn't going anywhere. He owes his coaches too much for that.
"When I first started fighting internationally, my coaches would fly over to China or wherever else in the world with me and lose money," he said. "They would lose money following me around the world. Now, I feel privileged and honoured to be able to get them a nice slice of the money we're making now. A nice slice of the cake. They don't have to lose money, they actually make money when they travel with me. I don't need to go anywhere else.
"I don't think you guys understand what New Zealand kickboxing is about. At one point in time we were on top … in the world of stand up. The Americans, they have wrestling and all the Brazilian jiu-jitsu guys going over to the States and opening schools, so they have the grappling advantage. So we're catching up fast. You saw my takedown defence in my last fight. And that was nothing, that was just me feeling the energy of the place.
"I'm glad I got my back on the fence, I'm glad I fought off takedowns. Our stand up is another level, and every fight starts standing on the feet. So our grappling is catching up, and eventually if someone takes me down, they'll see what my grapplings about. … If they want to beat me, they better do it yesterday because every fucking day I'm getting better."
Not that Adesanya believes he has a significant amount of improvements to make. Having fought over thirty times in kickboxing and boxing, as well as a twelve fight in streak in MMA, the New Zealander has the stand up experience to match most in 4oz gloves. In fact, with that experience behind him, and having been patient enough to wait for the correct time to jump up the premiere MMA promotion, Adesanya believes he's ready to face names much higher up than some of the ones being offered to him now — all the way up to championship level.
"Why we took so long to get to the UFC is because — for example the 'Looking for a fight' show with Dana White — they jump into the UFC after three fights or four fights," Adensaya said. "Some do well, some not so well. But we wanted to make sure when we got to the UFC, we assumed they were going to chuck us into the deep end straight away, so we wanted to make sure we were ready to fight top five guys or the champion on the drop of a dime.
"We know we can beat these guys, and there's levels to this shit. You guys will see eventually, but I'm coming up very nicely. Yeah. We don't have to worry about anything, we're ready to take on anyone. So we jumped into the UFC late, because we wanted to be ready to swim with the sharks and eat them if we have to."
Comments
comments