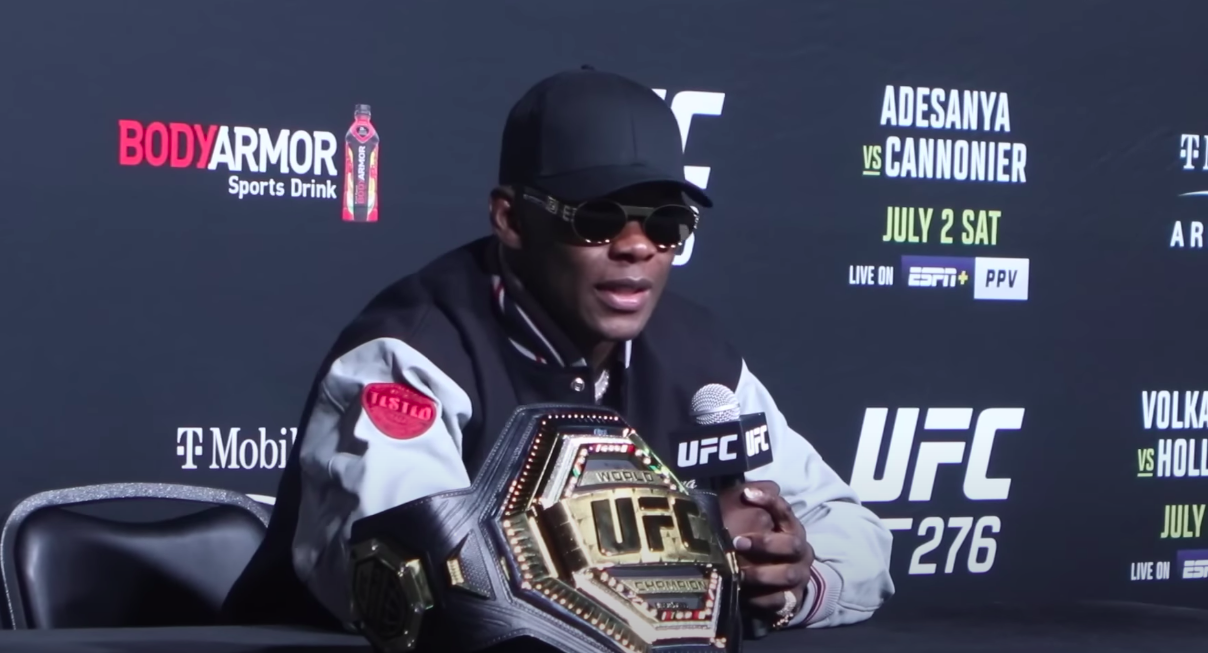 Israel Adesanya was celebrated by USADA for a spotless record when it comes to drug-testing on Wednesday ahead of his title defence against Jared Cannonier which tops this weekend's UFC 276 card — and has offered a monetary reward to anyone who can prove he has ever cheated.
Adesanya was accused by former opponent Paulo Costa of steroid use after he was noted to be experiencing gynecomastia (a swelling of the breast) ahead of their bout; a condition which is sometimes noted as being the side effect of steroid usage but which can also manifest in other situations. The ensuing row became known as 'Tittygate'.
And shortly after being congratulated by the UFC's Senior Vice President of Athlete Health and Performance Jeff Novitsky (aka the man who essentially oversees drug testing), Adesanya had a challenge for anyone who can prove that he has ever ingested something he wasn't supposed to.
"When you're great, they talk about 'Tittygate,'" Adesanya said to the media in Las Vegas on Wednesday.
"At the same time, I'm like, 'How the f*ck?' They just need to find excuses to take away my greatness. I understand this is what people are supposed to do, so I let them. Look, I will give $3 million to anyone who can ever have concrete evidence that I even know what the f*ck I'm doing with steroids or how to take steroids.
"I promise you… $3 million if you can find anyone who has concrete evidence that I've ever even purchased, touched, or done any kind of performance-enhancing drugs or whatever. I watched Icarus. That's how much I know about steroids, from that documentary. It opened my eyes. It shocked me.
"So yeah, $3 million for anyone who can ever find any concrete evidence that I've been using performance-enhancing drugs. Pull up. This is easy. It's easy to talk and type online, but really it got to me a little after the Costa fight. I was like, 'These f*cking c*nts are just trying to take away my greatness, because I had a f*cking spectacular performance.'
"I'm like, 'How the f*ck are you trying to take that away with accusations based on nothing.' I'm like, yeah, pull up. Show me what's up. Three million. I know you don't have that in the bank. I do."
Comments
comments