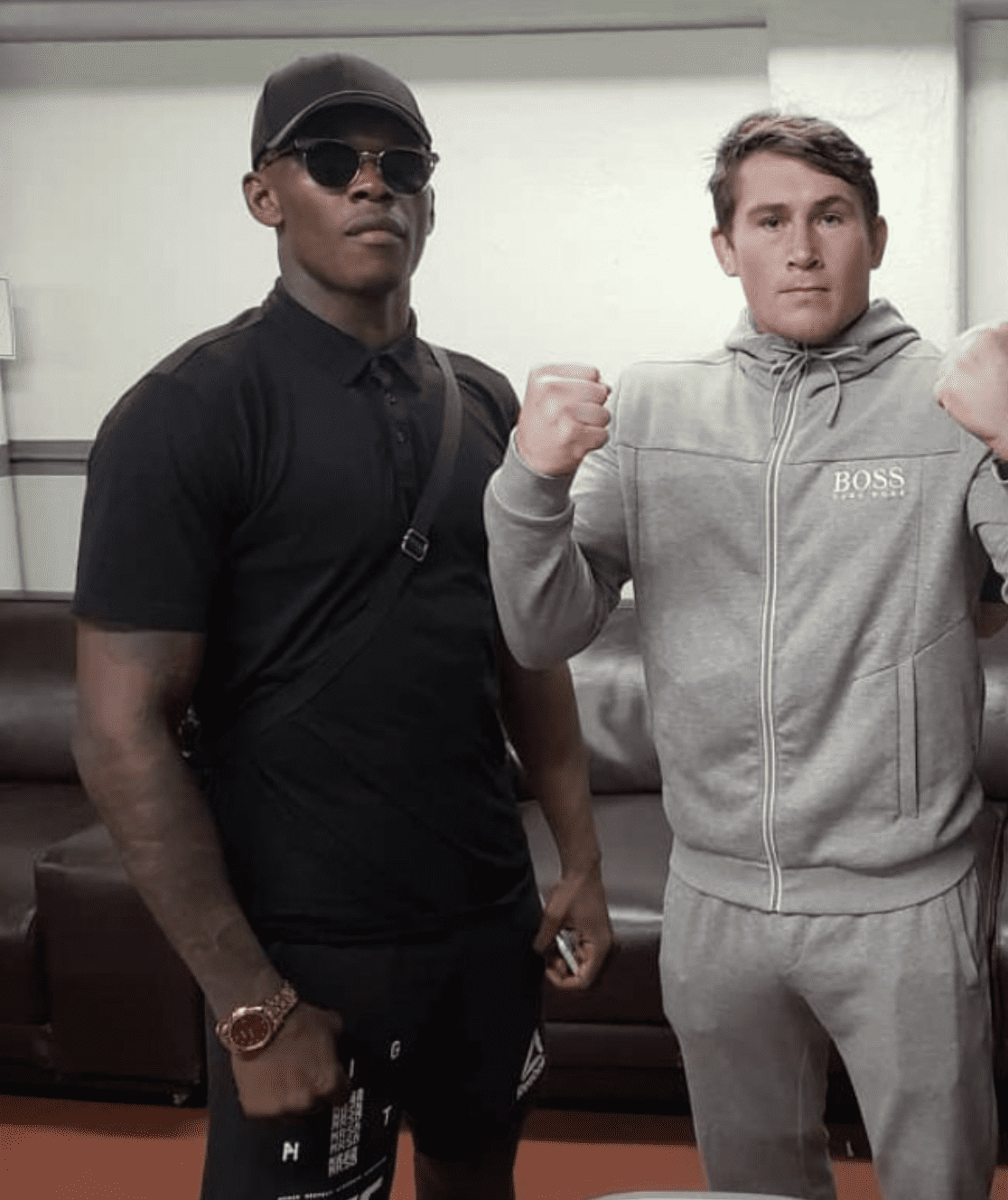 Israel Adesanya says, before it's all over, he wants to meet Darren Till in the Octagon on Till's home soil.
The two middleweights have been linked for years, with Till repeatedly saying he's destined to meet Adesanya for the world title and with the promise of a striking clinic in store. For Adesanya, there are other tasks he needs to attend to first, but he admits a meet with the Liverpudlian very much intrigues him — as do other match ups in the middleweight division.
"I hope [Jared] Cannonier beats Robert [Whittaker], cause I want a new body. Jack Hermansson, I don't really mind too much," Adesanya said, speaking to Submission Radio. But I'd like Darren to get that one done, but he didn't really get it done against Robert. It was a good fight, close fight, but I think maybe the takedowns gave it to Robert. Who knows. But yeah, the Jack Hermansson and Darren Till fight, I don't really mind. But Cannonier, I hope Cannonier whoops his ass, so I can… I want to fight that guy, I like him. Same with Darren. But also Jack Hermansson I'd like to fight, but I really want to fight Darren one day in the O2 or in Wimbledon. That would be a good excuse to go to England. Go sip some tea and crumpets.
"[Till and I] haven't talked in a little bit, but we're cool. I mean, we know the game. Like, Darren's a guy, I'm not gonna act like we got beef, when it's time to fight I will fucking embarrass him. Yeah. But right now, he's cool and I'm cool. We're cool. Yeah."
First up, Adesanya has to deal with the number one contender Paulo Costa, whom he maintains he'll prove he's levels above. Smaller cage or not.
"Put it this way, the kickboxing ring in Glory is way smaller than the smallest octagon the UFC has, and I fought a world-class guy [there] who does what? Throws body shots, walks you down and throws legs kicks, same style as Paulo," Adesanya said. "I fought him in that and was able to use footwork to be able to dance around him and stick him. And the ring as well, the kickboxing ring has corners that are easier to trap you in. People say, 'oh, the small cage is better for it'.
"I'm like, no, look at what I did in a small cage the last time I fought in a small cage. I toyed with the guy for five rounds, and there was a beautiful display of technique, skill, footwork, grappling, everything. So, I don't know what people… I think it's just the casuals. The casuals are the one's that are like, fuck, it needs to be in Vegas so he can't run. Like, bitch, I'll dance circles around him and stick him at the same time till he bleeds to death."
Comments
comments