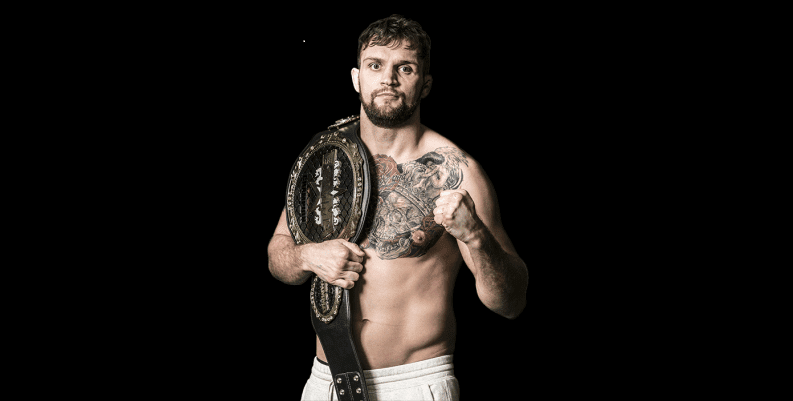 He has had to wait a while for it, but Welsh middleweight John Phillips (21-6-0-1) finally has a new date for his UFC debut.
'The White Mike Tyson', a former BAMMA champion, will face fellow UFC debutant Charles Byrd (9-4) at the organisation's return to London on March 17th, it was announced today.
Phillips initially signed with the UFC in late 2016 but a knee injury and visa issues have delayed his first octagon appearance but with the UFC's return to the English capital set for St. Patrick's Day, the SBG fighter says that he is now more than ready to begin his ascent up the middleweight rankings. His UFC career has experienced two false starts so far. Phillips' first bout was to be against Marcos Pezão in Denver a year ago but the visa paperwork was unable to be completed on time. The same issue caused the nixing of his second booking, against Eryk Anders last month.
Now, though, and with a niggling knee injury behind him, Phillips says he is committed to making up for lost time when he makes the walk under the lights at The O2 in two months time.
An incredibly powerful striker, Phillips was a member of the Welsh commonwealth boxing team before making the move to mixed martial arts and it has been a very fruitful transition for the Welshman. His potent stand-up skills have earned him an impressive run of 18 knockouts from his 21 victories so far (the other three wins are submissions) and he says that he is more than ready to show off his skills at the highest level of the sport.
"I remember saying that it won't feel real until I make that first walk," Phillips said in an interview with TheMacLife.com. "A year has gone by now, and of course I got injured, so it's no fault of the UFC or mine. I probably would have fought three times by now. The injury knocked me back, and the visa knocked me back twice."
Phillips had keyhole surgery in Wales to remedy a persistent issue with his ACL and meniscus aggravated by turning awkwardly to throw a stick into the Irish Sea for his dog. Since joining SBG Ireland, Phillips has competed twice — winning both by first round knockout, taking his career ledger to an impressive 21 wins, none of which came by decision.
Phillips' first bout as a member of SBG was a BAMMA title victory against Cheick Kone (he won in 65 seconds) and he followed that up in September of 2016 with another first round finish of Brazilian fighter Jose Otavio dos Santos Lacerda.
"I fought a tough Brazilian," says Phillips of his last fight before the UFC came calling. "A black belt in BJJ and he's a Muay Thai instructor in his gym, so it was a tough fight but I was able to catch him in the first round and knock him out. I remember I was waiting for a takedown, waiting for the leg kicks and I remember looking at him and I banged a leg kick in and I thought, 'Oh, that's not too bad. I'm doing alright here!' Either he's so good at Muay Thai that he doesn't care about my leg kicks or I'm a little bit better and I got that kick in.
"He looked at me as if to say, 'You want a fucking leg kick, do you?' He kicked me in the leg, I kid you not I thought he had broken my leg. I gave him the look as if my leg didn't hurt and then I managed to catch him. Highlight reel knockout."
What's interesting about Phillips' decision to uproot and move to Ireland to train under John Kavanagh is that his career record shows a pair of victories over two SBG stalwarts — Charlie Ward and Chris Fields.
To some fighters, moving to a gym where you are going to see a past opponent every day could be a less than attractive proposition but not in Phillips' case. In fact, in Ward, Phillips says, he has found something of a kindred spirit.
"When I first came here, my first main training partner and sparring partner was Charlie Ward," Phillips explains. "We get on like a house on fire. Our fight, I'm sure if we fought ten times I would win five and he would win five. But this is a sport, if the result had gone the other way I would still have come here and I would still be the same and I think they know that.
"Back home, I sorted of winged it," he says of his decision to move to SBG. "I did my judo and I did my jiu jitsu, but it wasn't all together. It was good training in all the individual sports but I didn't have an MMA eye, or an MMA coach. Knowledge is power and I never really had that gameplan. People used to ask me what my gameplan was and it was keeping punching him in the head until he goes asleep, or the ref pulls me off. It's nice now to have other tricks in my arsenal. This is an MMA team and I didn't have that back home. No disrespect to the boxing coaches back home but they've gotten old and they couldn't really handle me on the pads."
Coming from Wales where mixed martial arts is still in the process of finding mainstream acceptance, Phillips was sometimes ill-at-ease to tell people what it was he did for a living, often inventing all manner of other occupations so he wasn't forced to explain himself or his motivations. That changed when he started training under John Kavanagh.
"I remember being out and we'd be in a restaurant and someone would ask me what I do for a living and I would say, 'I'm a builder'. I remember coming over here and I was out for food with John [Kavanagh] and somewhere I said I was a builder. He stopped me and said, 'Hey, you're not a builder. Tell this person who you are what you do. Be proud of it.'"
London here I come! https://t.co/Tf1hY6EWel

— John phillips (@JohnPhillipsmma) January 18, 2018
In March, Phillips will become the third Welshman to compete in the UFC after Brett Johns and Jack Marshman and, while he says he is happy for their success in the UFC, he says watching them compete while he was stuck on the sidelines was difficult.
"They're doing well, in fairness. You've got Brett Johns who is an ex-teammate. Jack's a really nice guy and his team is a really good team but it's just annoying that the UFC felt that Jack should be the first MMA middleweight to represent Wales when I have a better record than him, I've been fighting longer than him. I was a little bit bitter about that. I had already asked to fight Jack before we were in the UFC but, like I said, Jack's a good guy and his team's a good team.
"If they were to put me and Jack together, it would have to be in Wales. It would be great. Jack's done awesome, he's representing his country."
So while it appears that Phillips' pursuit of a bout with Michael Bisping appears unlikely now, he says that once Bisping walks away from the sport (likely on the same card on which Phillips will make his UFC debut) he is more than ready to pick up the mantle of being Britain's most dominant fighter.
"I have a lot of respect for Bisping. The man is a legend, I just want to fight the big names. You have to fight the best to be the best. I don't want to be in this game just to fight lower ranked fighters, I want to fight the big names and I want to fight the big names as soon as possible. I truly believe I'm going to be the next Bisping and come along to represent Britain as good as him."
But, as he says, it's first things first. Phillips has a date set for his first UFC bout and with knee injuries or visa applications not standing in his way this time around, it's time to let his fists do the talking.
"I've missed a year now. I want to make up for lost time. I want to fight and I want to be active."
Comments
comments