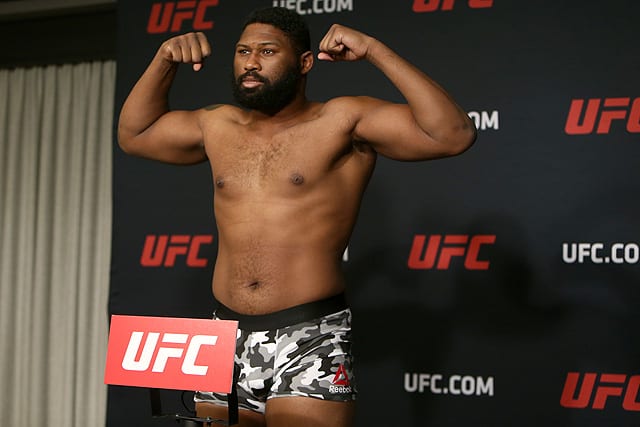 For about the last 12 months or so rumours have been rampant that Brock Lesnar was to make a return to the UFC heavyweight division to challenge Daniel Cormier, though these suggestions were nixed by UFC President Dana White on Tuesday who said he had been informed by Lesnar that he was 'done' with MMA — and fellow heavyweight contender Curtis Blaydes isn't happy.
Blaydes has been defeated just once in his last eight bouts for the organisation. His two career defeats have both come at the sizeable hands of gargantuan heavyweight Francis Ngannou, form which has placed Blaydes into the running for a title shot of his own, though his ambitions have been somewhat placed on hold by the uncertainty surrounding Lesnar's supposed return.
Now that we know this isn't happening and that Stipe Miocic will almost certainly face Cormier for the strap in late summer, Blaydes has taken to social media to fire a shot at Lesnar for backing out of his comeback.
Fuck you @BrockLesnar holding up the whole damn division just to quit smh inconsiderate AF

— Curtis Blaydes (@RazorBlaydes265) May 1, 2019
"F*ck you Brock Lesnar," Blaydes wrote. "Holding up the whole damn division just to quit. (Shaking my head) Inconsiderate as f*ck."
Regardless of how the division has been handled in the past year, Blaydes now has one less obstacle in front of him as he pursues UFC gold and given how this division has panned out in recent times it is likely that Illinois native is just one or two more wins away from being in serious consideration to face the winner of Cormier and Miocic, though Ngannou will state his own case for that spot in his upcoming duel with former champ Junior Dos Santos.
Comments
comments