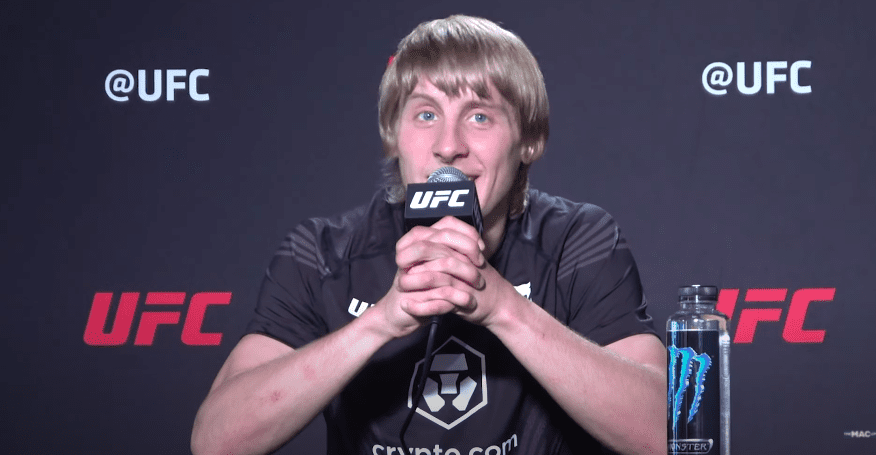 It was a long time coming but when he finally got into the Octagon last Saturday night, Paddy Pimblett ensured that his UFC debut was worth the wait. 
After twice turning down the UFC's advances in the past, Pimblett made quick work of his debut opponent in Las Vegas when he defeated Brazil's Luigi Vendramini by first-round TKO, but not before he tasted his first bit of adversity in his new home after his opponent landed a flush left hook which had Pimblett in trouble early.
The Liverpudlian soon composed himself though, and got his opponent out of there with a flurry of strikes towards the end of the first frame — and as he explained afterwards, he feels that his debut performance couldn't have gone a whole lot better.
"Yeah, one hundred per cent," he said to the media, including The Mac Life, if he was happy with his efforts. "Either that or run out in five seconds and getting a flying knee like Masvidal, but yeah, that was perfect.
"I showed everyone that I can come through adversity, as well, because he did catch me with a nice left hook.
"I need to stop letting people punch me in the face, lad, I want to put on too much of a show, lad, so I just put my hands down and get into firefights with people.
"I do it in the gym, my coaches Paul, Ellis, Adam and Chris, my boxing coach, they all moan at me for it, do you know what I mean? 'What are you doing? Get your hands up!' I can't help myself lad, I like fighting, so I do let people hit me sometimes, which is pretty stupid because it could go wrong, but it didn't go wrong, it was never going to go wrong."
Pimblett has forecasted that he will very quickly rise up the ranks in the lightweight division to become a serious title threat, and says that his "destiny" is now playing out in real time.
"This is my destiny. I'm here. I'm the new kid on the block," he added. "I told yous the other day: I'm going to get a first-round finish. People think I'm a grappler and I've just shut everyone up. I can strike, I can grapple, I can wrestle, and I've got the personality, I've got the look: The new king is here lad."
Comments
comments