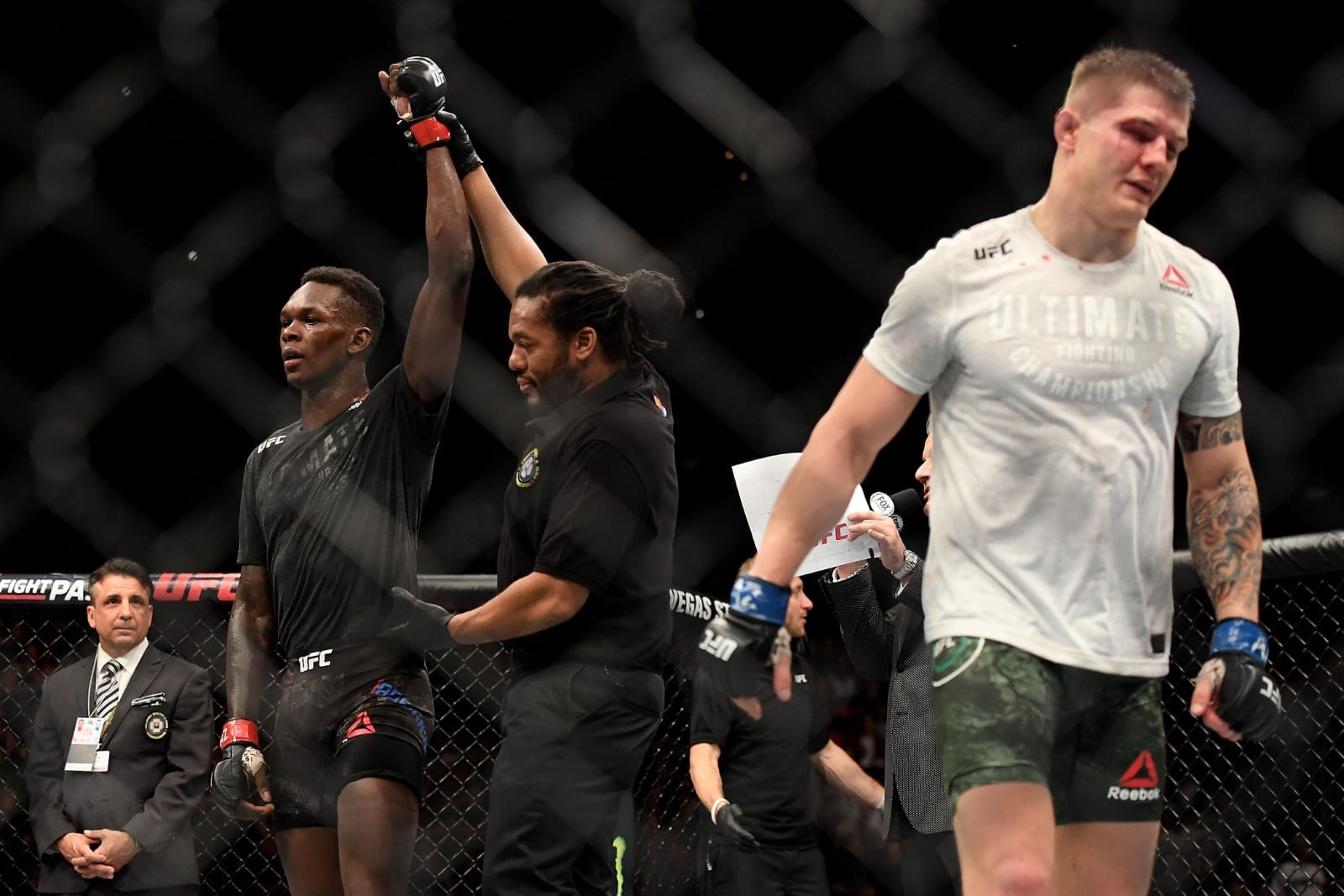 The newly-installed fifth ranked fighter in the UFC's middleweight frame, Marvin Vettori, isn't going to rest until he gets one more shot at the division's standout fighter, champion Israel Adesanya.
Italy's Vettori is to date the only fighter to have had at least one judge score a fight in his favour against the undefeated Adesanya, losing a split decision to 'The Last Stylebender' in what was the Kiwi's second fight with the UFC back in April 2018. Since then, Adesanya's run brought him to the 185-pound title, along with talk of a move to 205 to take on lighy heavyweight champion Jan Blachowicz.
Vettori, though, is biding his time ahead of a return fight with the last man to defeat him in the UFC cage.
"It's just so nice to prove this guy wrong," Vettori said to MMA Fighting of Adesanya soon after his win against Jack Hermansson last weekend.
"To kind of show him I'm right back in his face. I'm right here, motherf*cker. Just look in my eyes. I'm going to be your worst f*cking nightmare until the day you f*cking retire. That's what it is. I'm sure he's feeling it. He didn't say nothing but he's feeling the pressure.
"There's nobody that's coming out with such an overwhelming force in this division. With such hunger and will to become the champion. There's nobody like this. He's definitely feeling it. If I had to defend the belt against me, I would not feel calm, relaxed. I'd be feeling pretty stressed. I feel like he's feeling that way, too."
With Adesanya likely to fight Polish champ Blachowicz next, Vettori says he understands why he would chase that fight rather than facing the top contender at 185-pounds — and it comes down to which one is the easier fight.
"I think in his mind, Blachowicz suits him well," Vettori continued. "Because he's powerful but his striking can be read and he can do that. That's why he prefers that fight plus there's way less to lose like 'I'm stepping up there and if it doesn't go that way, I'm not losing my own title, I was just chasing an extra one.' I feel like he still did nothing. He did not much."
But if not Adesanya, then who next for Vettori? He has a couple of names in mind.
"Now the rankings just came out. Darren Till being No. 4, it's a joke. Really, it's a joke," Vettori said. "But I think that would be a great scrap if we fight. After I beat somebody like Darren Till, I'll be the only guy with two wins in the top five and I don't know what will happen with Whittaker, but after that, I feel I will deserve a title shot. To be honest, I'm willing to fight anybody.
"Me and Whittaker, I would love the fight. I think legitimately [Whittaker is] the best after Israel and after me, the best in the division. He's definitely a very good test. I would love to fight him. It will be good. In terms of legitimacy, I think that will be the most fair fight but a lot of times things they go in different ways.
"I don't know. It also depends on what Israel is going to decide to do and what the UFC is going to decide to do with him. Like I said, I'm not going to pick and choose. They give me a couple of these guys, I'll be right there. I'll be right there ready to answer and fc*k them all up."
Comments
comments