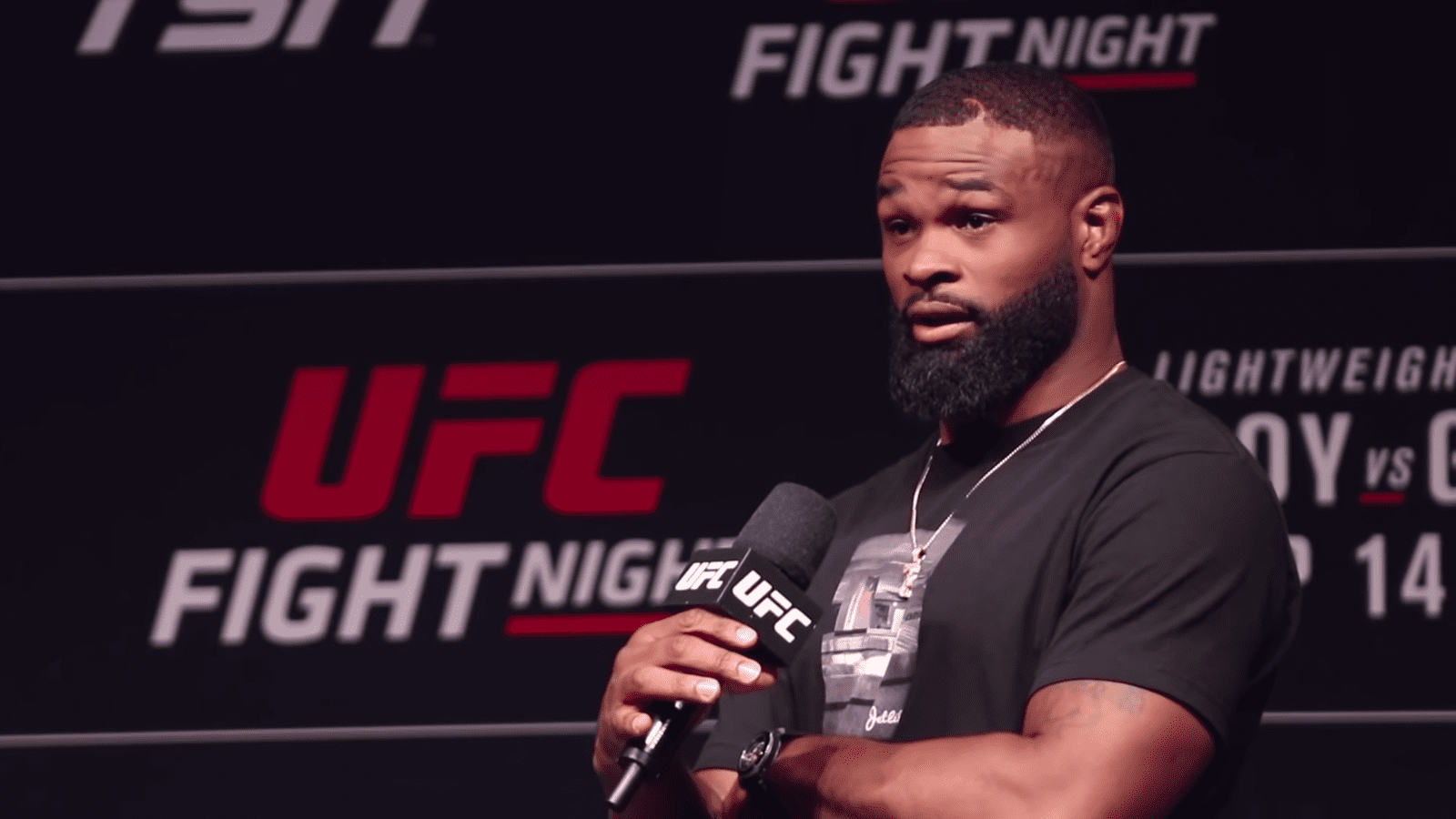 After UFC London was somewhat predictably deemed an impossibility due to measures from both the UK and US governments to curb the spread of the novel coronavirus, Tyron Woodley still wants to get some work in this weekend.
The former UFC welterweight champion as supposed to be fighting Leon Edwards in a matter of days but the outbreak of Covid-19 has called a halt to practically all sport on the planet — except, so far at least, the UFC. It remains to be seen how long Dana White can keep the show going on but, per reports, there are discussions underway to have Woodley fight this weekend against Colby Covington.
America's Champ has let the @ufc know he's available to #KAG and slap the shit out of @twooodley live on @espn for the people! Someone let Tyrone know. That dip shit has me blocked on all platforms because my words "hurt his precious little feelings." 🇺🇸🦅🇺🇸

— Colby Covington (@ColbyCovMMA) March 15, 2020
"There's a lotta people out there that are just straight clout chasing, attention seeking bitches," Woodley said. "Colby, you a bitch. Don't ever open your f**king mouth.
"He put all this s**t on the internet about him wanting to fight me and I said yes immediately. That's the fight that made the most sense anyway. That's the fight I was supposed to get before Leon Edwards and they said he couldn't fight because of his jaw.
"The second they booked the fight with me and Leon, now all of a sudden his jaw is healthy, he can fight. He a bitch, he want attention, he dodged me four f**king times so I didn't even want to talk about Colby, he's a f**king bitch, he scared."
"Colby Covington is my number one choice."

Part 2 pic.twitter.com/XhYquuj5BI

— Chamatkar Sandhu (@SandhuMMA) March 15, 2020
"Colby Covington is my number one choice," Woodley continued. "My number one choice. If I can fight him, Lord, there is a heaven above. When they try to make things for my evil, they make things for my good. This will be my delight. Go on his page and call him out. He'll probably deactivate his account cuz he a little hoe. Call him out: 'You talked all that s**t. Tyron Woodley said let's go.' You want to fight this weekend? You wanna fight in Oregon, Florida, wherever you wanna fight? Let's do it. Since you all 'anybody, everybody, all the time.' Get on his s**t, get on his line, tell him to fight me and quit being a little bitch."
"So Colby Covington, wherever the f**k you at: you a bitch, you a hoe, you a clout chaser, you don't wanna fight for real, you wanna fake like you wanna fight. And now I'm gonna call your ass out. I let you rattle your mouth cuz you knew I wasn't going to say nothing, I wouldn't give you attention. But now it's time to go."
Let's see if the UFC can keep this show on the road a few days longer.
Comments
comments