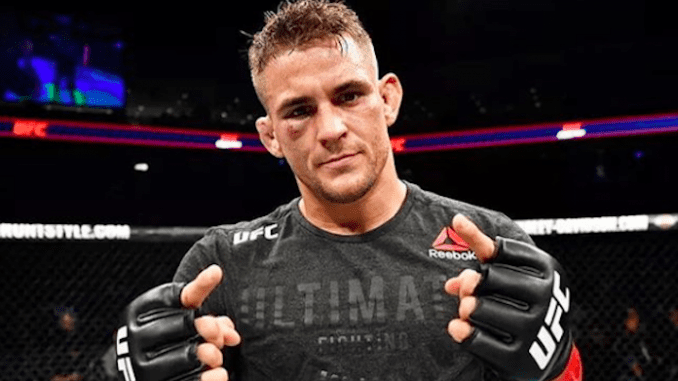 Dan Hooker capped a successful night for the Kiwis at Saturday night's UFC 243 event in Melbourne, Australia as the New Zealander claimed the biggest win of his professional mixed martial arts career when he conclusively outpointed 155-pound contender Al Iaquinta in the card's co-headliner.
Hooker, who was ranked in 15th position in the division prior to last night, will likely be facing a further upturn in competition in his next fight and wasted little time in calling his shot in the octagon, telling the audience: "Dustin Poirier, I'm going to smash your face in! Meet me in New Zealand 2020, and I'm going to end you!"
As tantalising as the offer is Poirier — who was defeated last month by Khabib Nurmagomedov in the UFC 242 main event — is going to have to decline. His reasoning? He expects to face Conor McGregor in his next bout.
I'm fighting the Irishman next. You're close but not yet buddy keep punching @danthehangman

— The Diamond (@DustinPoirier) October 6, 2019
"I'm fighting the Irishman next," Poirier wrote. "You're close but not yet buddy, keep punching."
Poirier has mentioned McGregor's name on several occasions since the defeat to Nurmagomedov, with the two engaging in a mild Twitter spat last week. The opponent, and indeed date, of McGregor's next fight has yet to be confirmed but with several of the division's top fighters otherwise engaged (and the prospect of revenge for his defeat to McGregor at UFC 178 possibly buoying him) Poirier appears set on attempting to speak his own objectives into reality.
Hooker, meanwhile, explained his callout at the post-fight presser.
"This is the No. 6-ranked guy in the world who went from a title fight two fights ago," Hooker said. "That's why Dustin is on my hit list. I wanted to follow Khabib's last two fights. I want to fight Al Iaquinta and then I want to fight Dustin and take him out."
Comments
comments