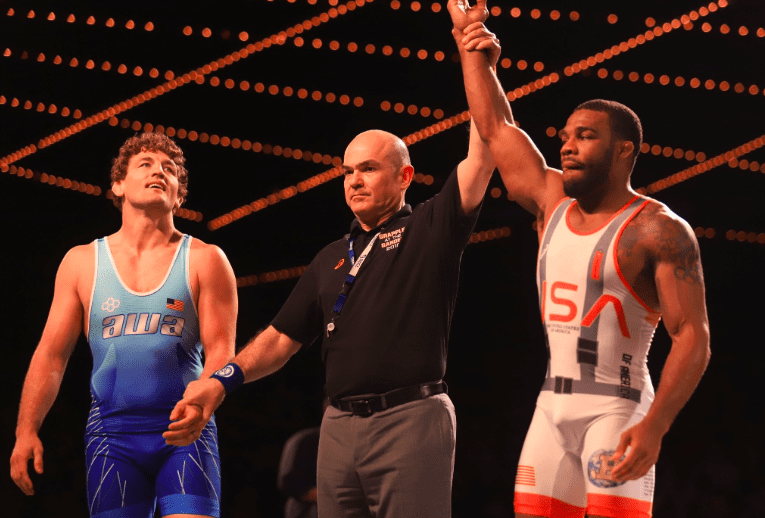 Jordan Burroughs is a name which has been on the lips of mixed martial arts fans for the past few days.
The American Olympic gold winning athlete, considered to be among the best wrestlers of his generation, made light work of UFC welterweight contender Ben Askren in an exhibition wrestling match in New York City on Wednesday, beating the undefeated fighter and former Olympic wrestler in his own right, by an 11-0 technical fall.
The match drew interest from both the MMA and wrestling worlds, igniting speculation as to how Burroughs' skillset would translate to the Octagon. In a recent appearance on Ariel Helwani's MMA Show, Burroughs outlined his love for wrestling but also said that his curiosity could lead to him taking on the challenge that mixed martial arts would present.
And Dana White would be all ears.
Speaking to the Jim Rome Show on Tuesday (via MMA Junkie), White said: "Yeah, listen, I'm always interested in, you know, these guys that are considered the best athletes in the world in whatever it is they do wanting to come to the UFC. Yeah, obviously I'd be very interested."
Should it come to pass, Burroughs would join Henry Cejudo as an active member of the UFC roster to have won wrestling gold at the Olympics. Given that he competed in the Olympics at around 163-pounds, it is most likely that Burroughs would compete in the UFC lightweight division should any deal come to pass, adding more world class talent to the UFC's marquee weight class.
Comments
comments