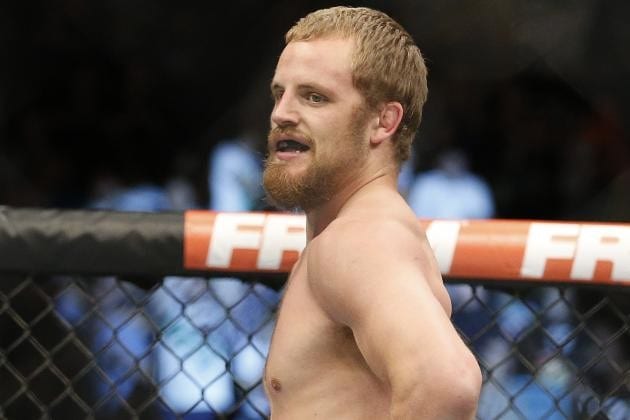 With a light being shone on the practice of weight-cutting or, more precisely, incorrect weight-cutting like never before, UFC welterweight Gunnar Nelson says he is holding out hope that the UFC will adopt a new 165-pound weight class, which the Icelander sees as being ideal to his frame.
Nelson is considered to be one of the 'smaller' 170-pound fighters on the roster and has on numerous occasions voiced his displeasure at the grip that weight-cutting has on the sport.
The SBG man, who faces Alex 'Cowboy' Oliveira in early December at UFC 231 in Toronto, Canada, in his return from a knee injury which ruled him out of a previously scheduled contest opposite Neil Magny, also stated that his injury is '100 percent'.
"It's been a while now and I'm really excited to get back in there," Nelson said to Obviously Fight Talk, via MMANYTT. "It was really unfortunate that I got injured for my last one, I was really excited about that fight and I was supposed to fight Neil Magny. You know, it is what it is. The knee is 100-percent now and I'm ready to go."
Oliveira, who has fought at lightweight in the past, appears to have moved up to his more natural weight of 170-pounds to avoid a hellacious cut — something which Nelson says more fighters should be doing.
"Ideally, it would be good to get this sorted," Nelson said. "A lot of these guys are the same weight and they cut all the way down to just put it back on and fight each other – they're the same weight walking in there 90 kilos, so why not just try to get rid of all that bulls*** and just get guys to fight at their weight."
"Maybe weight gain limits would be something to consider," Nelson continued. "Maybe not being able to gain to a weight class above you. I think some of the organisations, they monitor the guys from a week before or even ten days before so that they see if their hydration levels go below a certain point and if they do, they can't fight. I think that's something that could be considered. There are plenty of ways. I may not be the best guy to talk about this, but I'm sure there are ways to get around this and make a safer environment around the fights."
A 165-pound division, Nelson says, would prove to be a good middle ground for fighters too big for lightweight, and too small for welterweight.
"That'd be perfect, I'd go down to 165-pounds without a problem," Nelson said. "I've no issues cutting weight, it's barely a cut for me. 165 would be a little more of a cut, but it'd be fine."
Comments
comments