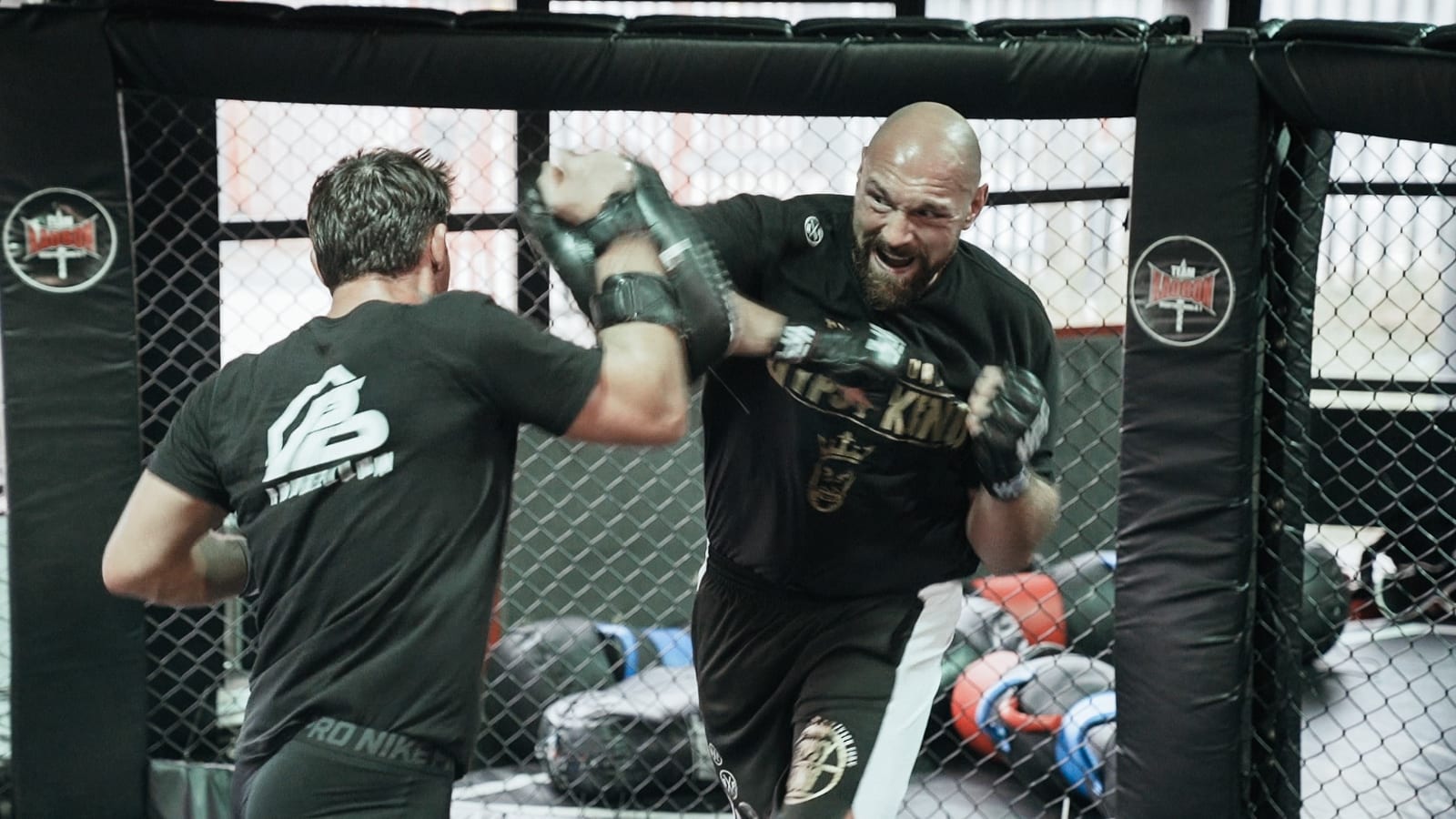 Tyson Fury has repeatedly stoked speculation about one day taking a mixed martial arts fight but now appears to have ruled that out — but still says he wants a piece of UFC heavyweight champion Francis Ngannou.
Fury, who is set to face Deontay Wilder for a third time this summer, has noted his interest in mixed martial arts in recent times and has even undertaken a few training sessions — one of which came with Darren Till at Liverpool's Team Kaobon.
It had been speculated that 'The Gypsy King' might one day take on the challenge of an MMA bout but it appears that any chances of that have come and gone but as he told Michael Bisping, he's more than willing to meet a mixed martial artist in the middle of their respective rulesets.
"What me going into an MMA fight? No, no. Yeah I'd fight one of those guys, I'd fight Ngannou with the little gloves on in a cage, but with no grappling and all that, just boxing," said Fury.
"Cage boxing. That will be good won't it. I'd fight these guys but you know yourself it's a totally different sport. It's like tennis and cricket. They've both got bats or rackets but it's a totally different thing. If I fight Ngannou in a wrestling match, I'm not a wrestler so I'm just going to get took down to the floor like James Toney and smashed to pieces.
"He wrestles more than me anyway. In a boxing fight, it's the same with him and me isn't it. But if you get a cross sort of in the middle somewhere and you've got the small gloves on in the cage, I don't even know what that means, but anyway we're going to bang it out."
Fury's latest stance on mixed martial arts comes after he had previously said that he would consider moving to the UFC once he completes his boxing career.
"I've not spoken to [UFC president] Dana White," he told talkSPORT in 2019. 'To be honest with you, I've got bigger fish to fry than going in an octagon at the moment and fighting some UFC fighters for peanuts. I'm fighting the biggest fights in the world. World boxing is the biggest fights.
"When I get my boxing career finished, I'm gonna go over there and set about all those UFC fighters."
Comments
comments