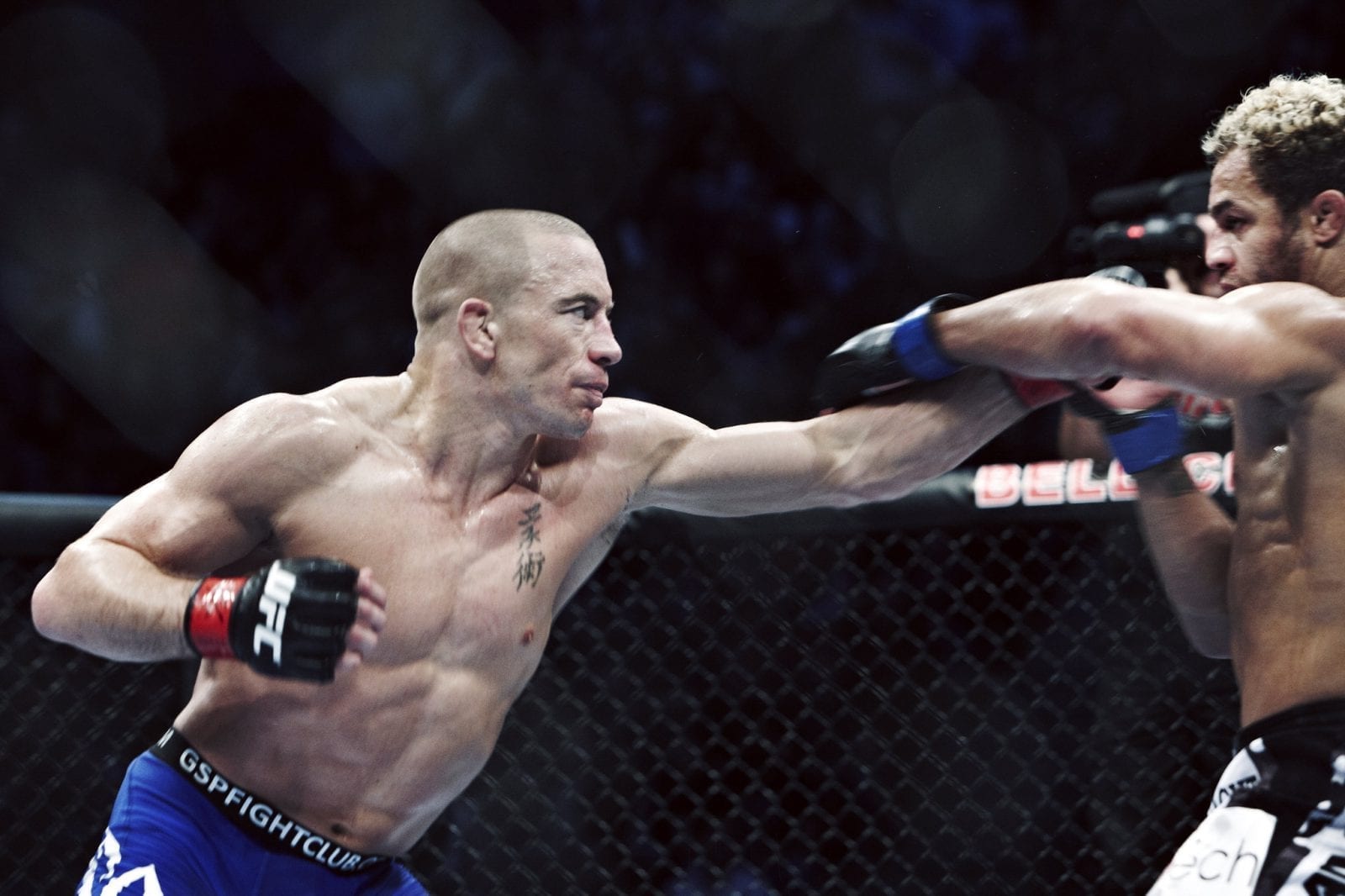 Welcome to the "In Case You Missed It" weekly round-up. Here, every Monday, we'll be taking a look at the top stories of mixed martial arts that emerged in the last week.
Over the last seven days, we've had (as usual) plenty to discuss in the world of MMA. Georges St-Pierre and the UFC finally got their stuff sorted. Cyborg and USADA gave the UFC women's featherweight division a breath of life, and Bellator's big night got ruined by a kidney stone. Let's take a look in case you missed it.
After three years away, Georges St-Pierre set to return
After prolonged, public and sometimes mean spirited period of negotiations, former welterweight champion and MMA legend Georges St-Pierre is returning to the UFC.
The French-Canadian and pay-per-view draw has been absent from the sport since late 2013, when he announced a hiatus in the cage following a (slim) victory over Johny Hendricks. He had revealed his interest in a return last year, but was repeatedly dismissed by UFC president Dana White as not really wanting to fight and having ulterior motives for the announcement.
Now, the nonsense is over with, and it looks as if we'll be treated to a GSP appearance in the second half of the year — although against who, is still uncertain.
Middleweight champion Michael Bisping looks to be (enthusiastically) available, while lightweight champion and all around superstar Conor McGregor has made mention of wanting someone to entice him back to MMA after he deals with the world of boxing; perhaps a contest against the man who used to be PPV king could do just that.
Cris Cyborg receives retroactive TUE and is free to compete
And, if the St-Pierre news wasn't enough to brighten Dana White's week, Cris Cyborg was granted a retroactive TUE from USADA, meaning she will not receive a suspension and is eligible to be booked immediately.
The decision from the anti-doping agency was reached after an investigation showed Cyborg had a rational use for the supplement Spironolactone, and that she had indeed been told to use it by a doctor.
"After a thorough investigation of the circumstances that preceded her positive test, which included a comprehensive review of Justino's documented medical history, USADA accepted Justino's explanation that her use of Spironolactone began in late September, following her bout at UFC Fight Night Brasilia, and was in accordance with her physician's recommendation for the treatment of a legitimate medical condition," USADA wrote in a statement.
It's a welcome decision for the UFC. The introduction of a new 145-pound division for the women got off to a bumpy start after a controversial decision win over Holly Holm has left many unimpressed with new champion Germaine de Randamie. Add in a lack of talent and depth, and had Cyborg been sent away for a 12 month suspension, and women's featherweight may have been a dud before it even got off the ground.
Fedor Emelianenko fight cancelled last minute
While the two bits of details above probably left Dana White a happy boss, it may have been Saturday night that had him wondering if this was the best week ever.
MMA legend Fedor Emelianenko was set to return and fight on U.S. soil for the first time in half a decade at Bellator 172, but when opponent Matt Mitrione had a kidney stone that failed to pass and got sent to the hospital — despite a 'Gangster' or two offered to step in — Bellator made the decision to cancel the bout and Fedor's appearance completely.
Now, the promotion look as if they're set to reschedule the bout for later this year, but we all know fan hype can be a fickle thing.
UFC Halifax
After UFC 208, the promotion could do with their next event offering fans a few more exciting fights and lucky for them UFC Halifax did just that.
A few great fights took place Sunday, before they finally culminated in a phenomenal main event between Travis Browne and Derrick Lewis. The two went back and forth over two rounds before Lewis managed to get the KO victory… before going on to cut one of the most insane promos in UFC history — covering topics from shit, Ronda Rousey's arse and having too much sex.
And that's before he declared himself an interim champion.
USADA brings around some changes
While it may not seem like big news now, USADA have decided to implement some new guidelines that could play a factor in the future.
Updating their requirements for drug testing fighters entering the UFC, the new rules go into effect on April 1, and can be surmised as follows.
If a retired fighter wants to return to the company, such as a Brock Lesnar or a Georges St-Pierre, then they'll now be required to go under six months of USADA testing before they'll be eligible to be booked. Previously, it had been four months. Of course, there is still the option for the UFC to incite an 'exceptional circumstance' clause, which will waive the requirement for the testing of a returning fighter.
It's worth noting that the addition of two extra months of testing only applies to fighters who have retired and wish to return. If instead of retiring a fighter has experienced an 'involuntary seperation' from the UFC (aka: got the sack), then they now only have to undergo one month of testing instead of the previous four.
Under the new guidelines, Lesnar would have had to (if the UFC hadn't waived his requirement) undergone six months of testing, while recently returning Angela Hill would only have needed a months testing.
Comments
comments