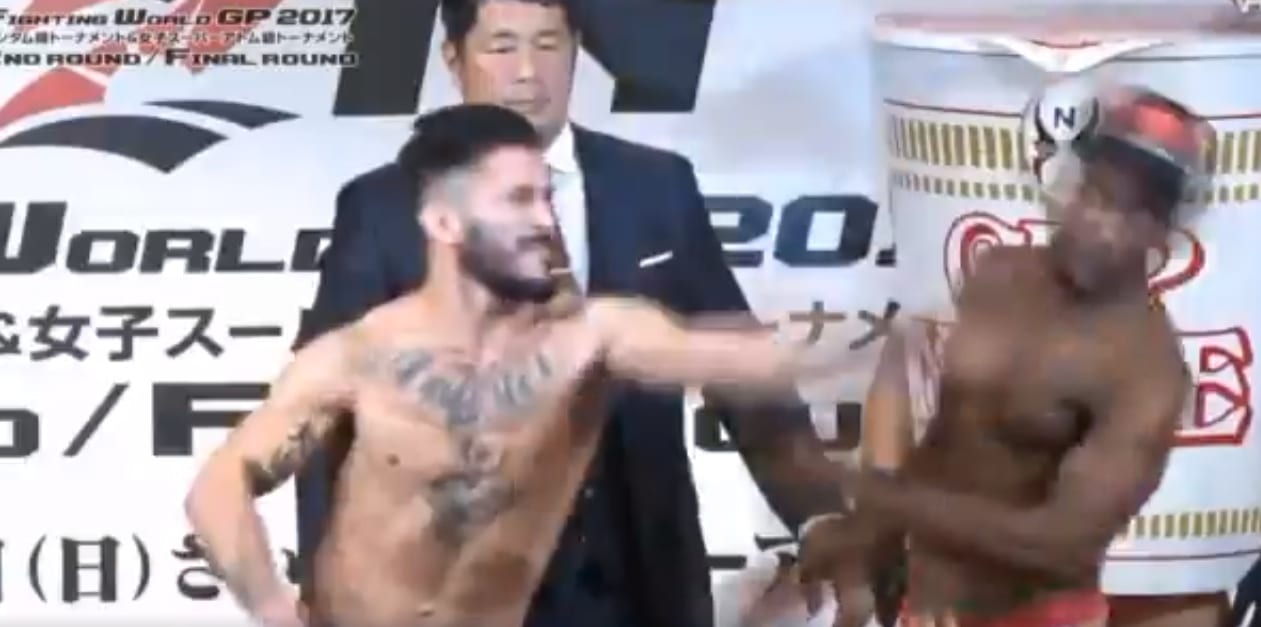 Former top UFC flyweight contender Ian 'Uncle Creepy' McCall competes this weekend for the first time in almost three years as he takes part in the Rizin bantamweight grand prix but his comeback to the fight game almost came a day early, as he and opponent Manel Kape almost came to blows at the official weigh-ins.
As the two fighters posed for photographs, Portuguese fighter Kape (7-1) aimed a slap at the back of McCall's head. 'Uncle Creepy' retaliated with a strike of his own, before the two were separated by officials.
It's worth noting that the Cup Noodle mascot was entirely ineffective during the fracas.
The McCall/Kape weigh-in went as you'd expect. Co-main tomorrow. #RIZIN2017 pic.twitter.com/RGbtBWWrCT

— caposa (@Grabaka_Hitman) December 28, 2017
McCall (13-4-1) later wrote on Twitter that his retaliation came in the form of a slap rather than a punch, and if he had connected with a proper strike his opponent would have known about it.
It was a slap. If my hand was closed he would have dropped https://t.co/SE8zcJh1pu

— Ian McCall (@Unclecreepymma) December 28, 2017
The winner of the bout will progress to the semi-finals which will take place a day later on Saturday. The tournament also features former UFC bantamweight Kyoji Horiguchi as well as undefeated prospect Gabriel Leite De Oliveira.
Meanwhile, Gabi Garcia was once again the source of controversy as she missed weight by a massive 12 KGs, or 26.5-pounds and subsequently engaged in backstage fracas of her own with 53-year-old opponent Shinobu Kandori.
It is unclear at this moment if the bout has been cancelled.
#RizinFF Update: Gabi Garcia was 12 kgs over. Opponent Shinobu Kandori freaked out and started yelling "this is a disgrace". Sakikibara came on stage and said "competitionwise, we cannot make this happen." Stay tuned.

— Joe Ferraro (@ShowdownJoe) December 28, 2017
Gabi Garcia and 53-year old Kandori Shinobu get into near scuffle backstage at #RIZIN2017– They fight this weekend. Order through @FiteTV here: https://t.co/mI3P4P85UR pic.twitter.com/A9TQKdK2fr

— Eric Kowal (@MyMMANews) December 28, 2017
.
Comments
comments