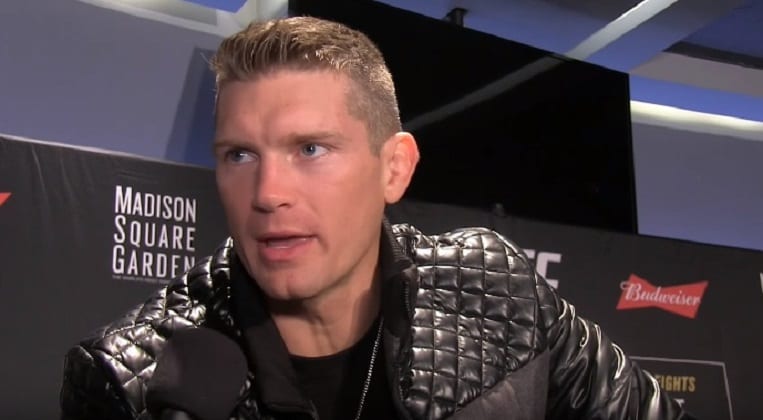 This weekend's UFC 264 is obviously being dominated by the headliner, a rubber match between rivals Conor McGregor and Dustin Poirier but before that takes place there will be a welterweight contest with significant ramifications in the title picture at 170-pounds.
And Stephen 'Wonderboy' Thompson says that he knows fully what to expect when the first bell rings against submission expert and recent world title challenger Gilbert Burns.
"I know anything can happen," said Thompson to MMA Fighting. "Obviously, the fight with Anthony Pettis, anything can happen. But I do welcome those [kinds of fights], I do. I lead myself to believe that most everybody I face, at some point in time whether it's early or if it's a little bit later, I have to be wary because at some point in time, they're going to try to take me down.
"They know they can't stand in there and strike with me. They're going to be shooting for the legs and I know for a fact Gilbert Burns will as well. He might just go straight out and try to shoot. You never know. Get me to the cage, try to wear me down. Kind of like the old GSP tactics against strikers. Get you up against the cage, lay on you, wear those arms out."
Thompson is known for being one of the most potent striking threats in the UFC but his record that he hasn't won a fight via strikes since a 2016 win against Johny Hendricks. He remains, though, in a two-fight win streak after impressive decision showings against Vicente Luque and Geoff Neal in his two most recent bouts.
But regardless of how the fight progresses, Thompson says that he is confident.
"I've got the best of the best at my gym right now and they're helping me every step of the way, up against the fence, on the ground and of course standing," Thompson said. "This is such an awesome training camp in the fact that I'm at the top. I've been in this game a long time but I feel myself getting better.
"Will I ever be as good as Gilbert Burns on the ground? No, but I can do enough to be able to survive and get back up to my feet if that happens. I'm ready to rock."
All of this, Thompson says, is part of the plan to emerge as a viable threat to Kamaru Usman at 170-pounds — and he has lofty expectations for that particular fight.
"I'm ready to go out there and show everybody what I'm capable of. That I'm ready to fight for the title. I told everybody after my last fight, 2021, I'm going to be champ," he vowed.
Comments
comments