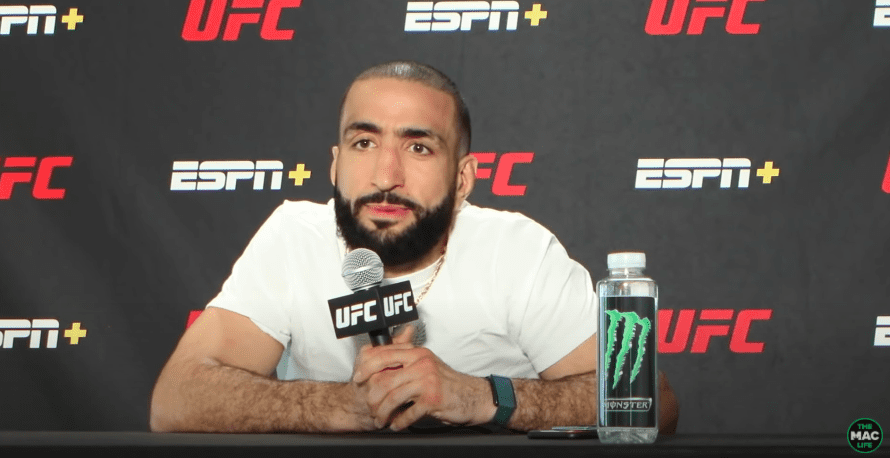 This weekend's UFC main event between Leon Edwards and Belal Muhammad might well decide the identity of a future recipient of a welterweight title shot, but it could also go a long way to selecting Colby Covington's next opponent.
The brash Covington has been absent from the cage since a one-sided win against Tyron Woodley last year, a fight in which he rebounded from the TKO defeat he suffered against Kamaru Usman in his maiden world title shot in December 2019. Since then, several names have tried to tempt him to return, most recently Leon Edwards, but Belal Muhammad says that he will place himself firmly in the conversation if and when he defeats Edwards late Saturday night.
And as he told the media in Las Vegas, including TheMacLife, it will be a pleasure to punch that man in the face.
"I'm not going to be one of those guys that's going to sit, especially if it's Colby Covington," Muhammad said of his potential next move. "After this fight, that's who's next and I hate that guy's guts. If I ever see that guy in the street I'm hitting him.
"Obviously that's a fight I would want before Usman, because stylistically that's a fight that makes sense and that's going to prepare you for the Usman fight, who's the champion. So for me, it's just keeping the momentum going. If I could keep fighting, if God willing I'm healthy, I win this fight and if they wanna get me back here a month later against Colby, why not? I'm down."
And as for why he feels so strongly, Muhammad explains that — much like a lot of the roster — he is tired of Covington's schtick.
"I just hate evil people," Muhammad said. "You could sit there and say, 'It's a character, it's that.' But you wanna say the things that he says and the way that he talks about people, the way he disrespects people? I'm from Chicago so those types of people, we don't let you talk like that. So if you say something like that about people I know, people I respect, you're gonna get slapped, you're gonna get hurt. It's not gonna happen, so for me, this is a sport.
"It's martial arts, so it's about respecting people. The way he's disrespected religion, the way he's disrespected Khabib who's like the face of the Muslim MMA community. For him to do something like that and to think, 'It's all part of the act.' This ain't no act. When we see face to face, you're gonna know that your act just got you beat up."
Comments
comments