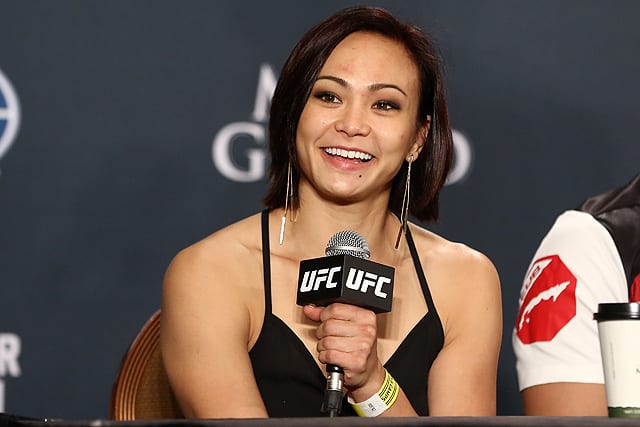 This weekend's fight card from the UFC Apex in Las Vegas was scheduled to be headlined by the return of T.J. Dillashaw from a two-year drug suspension where he would face top 135-pound contender Cory Sandhagen but with that bout having been postponed, Michelle Waterson is determined to make the most of her opportunity in the main event slot.
Waterson will enter Saturday's fight on the back of four wins from his past six outings in the Octagon, with the two defeats coming against former champions Carla Esparza and Joanna Jedrzeczyk and if she is planning on working her way towards a title bout with dominant flyweight champion Valentina Shevchenko she says she mustn't allow this weekend's opportunity to slip through her fingers.
"I've been fighting for 15 years now, and I know I only got a couple more good years in me and the more I realise that, the more I want to take advantage of every opportunity when it presents itself," Waterson said to the media, including TheMacLife, in Las Vegas Wednesday.
"You don't realise what you have until it's gone. COVID showed all of us a lot of that. I love this. I love to fight. I love to go out there. I love to perform. I love the fans, I love the media, and sometimes you can just get so wrapped up in the monotony of fighting, the training, the pressure, and the negativity of the outside noise, and you forget about all the things that made you fall in love with it to begin with.
"So, when this opportunity presented itself, I'm telling my husband, 'Stop playing with my emotions.' This whole year has been a whole series of up and downs for me. Just falling back in love with performing, with fighting. I told my husband, 'Yeah, let's do it.'"
Rodriguez, though, will provide a stern test. The Brazilian fighter has been defeated just once in her career thus far and has amassed a UFC record of three wins, two draws and a loss (including a win 0n Dana White's Contender Series). Both women have realistic designs on pushing forward towards a world title fight — and Waterson says that the stylistic clash will be something she welcomes.
"She's a stand-up banger who likes Muay Thai, heavy hands, she's good in the clinch, and I really like this fight stylistically," Waterson stated. "I've been in there with the best of the best strikers, Joanna and Rose – I know where I stand in the division, so I think this is a great matchup for me to show the world I belong at the top."
Comments
comments