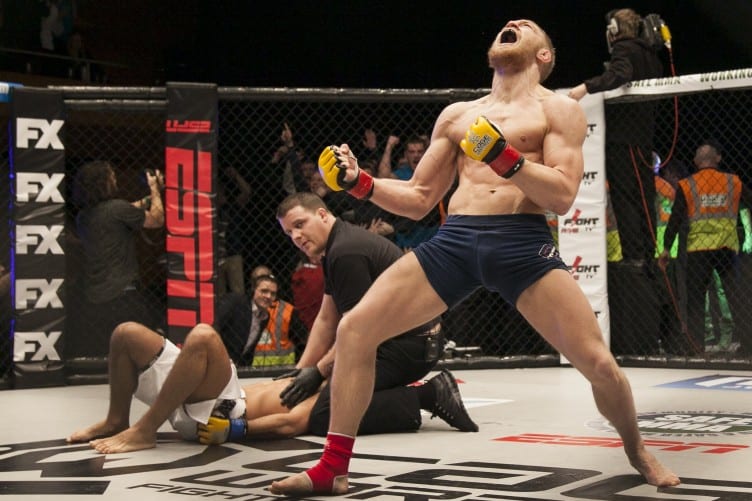 Way back in mid-December 2012, Conor McGregor was the Cage Warriors featherweight champion and was a couple of weeks removed from a one-punch KO of Ivan Buchinger to claim the promotion's 155-pounds title in a performance which went viral and crystalised the then-unheralded Dubliner as a significant prospect in mixed martial arts. 
The UFC would soon come calling after the Buchinger win but just a couple of week's before that hometown world title win in Dublin's Helix Theatre, contact was made with the UFC as to the potential of McGregor joining the UFC's ranks — a move which was initially shot down by UFC matchmaker Sean Shelby.
Responding to an email from Halli Nelson, father of Gunnar, Shelby told him that they weren't looking to add fighters to their featherweight ranks at the time — a situation which he said would "hopefully clear up soon."
Straight in at number 1.

How it started. How it's going.

(via @John_Kavanagh IG) pic.twitter.com/b85KbbhMj1

— Ryan Evans (@RyanEvans87) October 9, 2020
"Hi Halli, thanks for the email," Shelby wrote. "If I can use any of your fighters, especially Conor, I will contact you. At the moment, the featherweight division is terribly impacted from so many UFC lightweights moving down in weight. So, I'm not looking to sign anyone else for a while, but hopefully, it will clear up soon and guys like Conor will get the opportunity."
Knockout of the day Cage Warriors 51
Conor McGregor vs Ivan Buchingerpic.twitter.com/Yzmiuc6f7b

— Blue Corner Fighting (@blue_fighting) July 23, 2020
Of course, that stance would change very soon. McGregor's outstanding performance against the then 21-3 Buchinger showcased not just McGregor's skill in the cage but also the support he was generating in his home country.
It was announced just two months later that McGregor had signed a multi-fight deal with the UFC. He debuted the following April where he would claim yet another first round finish, this time against the unbeaten (in the UFC) Marcus Brimage.
And we all know what happened next.
Comments
comments