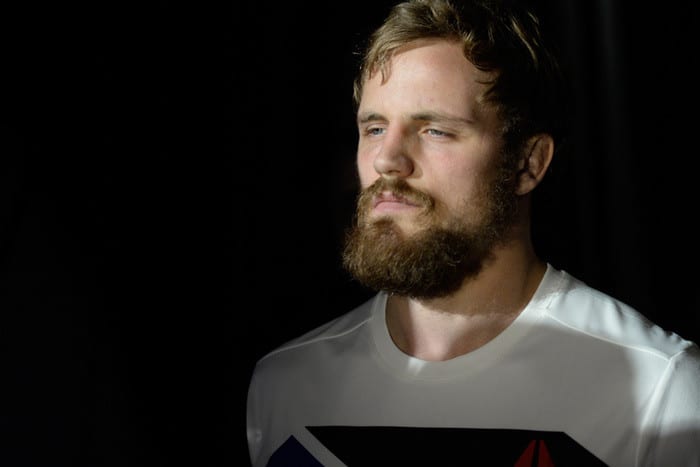 Gunnar Nelson admits he will be the underdog when he steps into the cage with England's Leon Edwards this weekend in the c0-main event of the UFC's latest trip to London but, as he told UFC.com, he comes into the fight in a very good place.
Nelson, who is 5-0 in fights in London throughout his career, defeated Alex 'Cowboy' Oliveira by second round submission last December to rebound from a defeat at the hands (and fingers) of Santiago Ponzinibbio in July 2017. A troublesome knee injury had stifled the Icelander's momentum, restricting him to just one bout in a 17-month span but the now healthy fighter is looking to make up for lost time.
"I'm honored to fight Leon, I have a lot of respect for him," he said of Leon Edwards, winner of six straight in the UFC welterweight frame.
"Obviously he's going to be the favourite — it's his country — but still, I've spent a lot of time there, I know a lot of people there, I've trained there, held seminars there and I lived in Manchester for a while. I know my way around there and I've always enjoyed it, so I do feel a little at home there.
"March 16 is a big card," Nelson continued. "There are going to be a lot of people there, there is going to be a lot of heat on that card, and it's a great time to go there and show what I'm made of."
As for how the fight might transpire, Nelson was complimentary to the threats that 'Rocky' can pose inside the cage.
"I think he's probably going to want to keep it standing," he said, offering his thoughts on how Saturday's penultimate pairing could shake out. "He's not uncomfortable on the ground and he's good with his wrestling — he's a very technical guy and he mixes it up well — but against me, he's going to want to keep it on the feet; try to maybe soften me up and then get a takedown, get on top, use his ground-and-pound, stuff like that.
"He's going to try to work towards that kind of angle, I would say. But we'll see. I'll take him as he comes."
Comments
comments