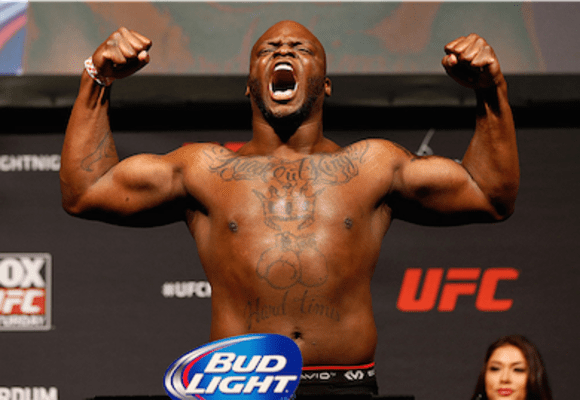 If there is one fighter who knows full well the damage that a few heavy strikes can have, it is Derrick Lewis.
The UFC heavyweight, who is expected to challenge Francis Ngannou for the UFC heavyweight title later this year, is known to be one of the organisation's hardest hitting fighters, with 20 of his 25 career wins coming by way of knockout — including two second round finishes of Curtis Blaydes and Aleksei Oleinik in his last two outings.
But when it comes to Miocic, the man who surrendered his heavyweight title to Ngannou with his own second round knockout in March, Lewis predicts that the man heralded by man as the greatest UFC heavyweight of all time might well be past his sell-by date.
I think this might be it for Stipe," Lewis said to The Schmo. "He's punch drunk and has been hit too many times. I don't think he's going anywhere up in his career after that."
Miocic's next move remains unclear. He was briefly linked to a fight with Jon Jones before the former light heavyweight champ shot that down on Twitter this week, while he has also suggested that he is working towards adding some significant muscle to his frame after being outweighed by Ngannou in their recent title fight.
Another former rival of his, though, doesn't necessarily think this will make a difference against the powerhouse Ngannou.
"I think you gotta be heavy to fight Francis Ngannou," Cormier said on ESPN. "Because Francis is so big and strong, and Stipe may believe that in that situation where Francis sprawled on him and took him down, maybe he sucks a leg in, maybe he can pull it in if he is a little bit stronger. I don't know if that is necessarily going to equate to that, but I believe that that's a good first step.
"I thought he was way too small going into there the last time. I even asked him about it in the fighter meeting. I'm like, 'Man, do you think maybe you should get a little bigger?' He's like, 'I only lost weight because I'm training so hard. It wasn't to be faster,' this, that and the other. I think it is a great idea by Miocic.
"Does it change anything in a rematch? I am not certain. … Great idea by Miocic, you gotta change something if you want a different result. I am just not certain if it is enough because of Ngannou's ability to knock him out."
Comments
comments