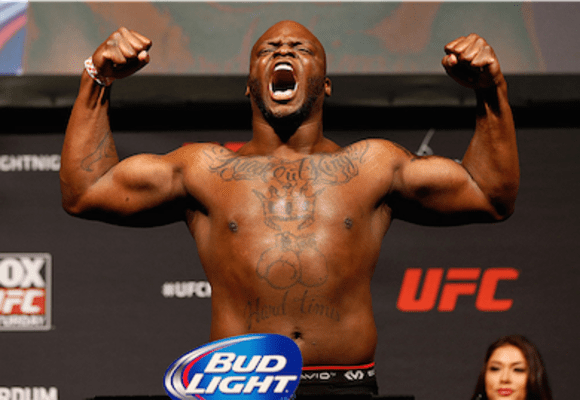 Anyone who has paid attention to Derrick Lewis' Instagram profile in recent times will be well aware of the series of 'He's OK' posts he issues which often show someone in some sort of sticky situation — but Lewis got an opportunity to involve himself in his latest Instagram offering, in which he claims to have tackled a would-be thief who was breaking into his truck.
On Tuesday, Lewis took to Instagram to show a man being arrested by police (while also apparently wearing a head bandage) with Lewis explaining that this "motherf*cker tried to break into my sh*t".
ESPN's Ariel Helwani added some further colour to the incident, writing online that he had been in touch with Lewis who told him that he had knocked out the assailant in the resulting fracas.
View this post on Instagram
Derrick Lewis tells me he noticed a man trying to break into his SUV this morning. He knocked the man out. The police then apprehended him.

I believe the correct thing to say here is, "he's ok."https://t.co/3IVUFKlQBL

— Ariel Helwani (@arielhelwani) May 18, 2021
It stands to reason that, if you are going to make a very poor life decision and break into someone's car, perhaps make sure that the vehicle in question doesn't belong to the next prospective contender for the UFC heavyweight title.
The situation somewhat resembles another incident from more than a decade ago when Jon Jones also tackled a would-be thief on the very same day that he would claim the UFC light heavyweight title from Mauricio 'Shogun' Rua in 2011.
Lewis is widely expected to challenge Francis Ngannou for the UFC heavyweight title later this year amid a contractual impasse between the UFC and Jones, who was expected to be handed a world title fight in his heavyweight debut after announcing his intentions to move up a weight class last year.
Comments
comments